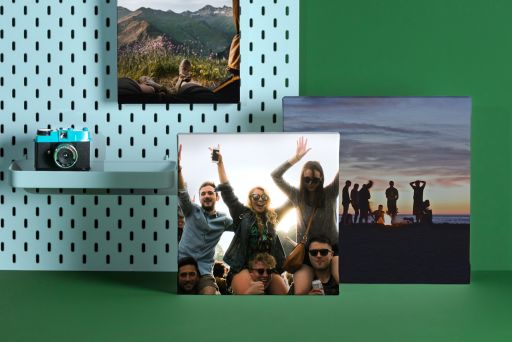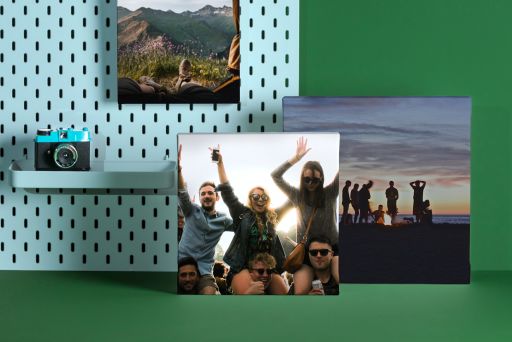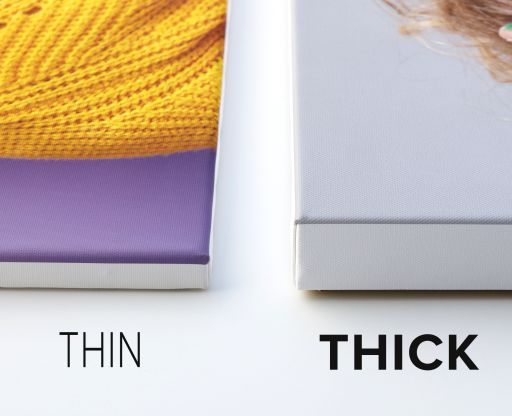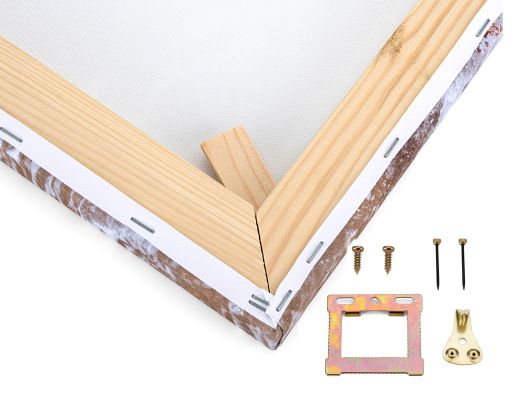 Small Canvas Prints
100% satisfaction guarantee
Perfect for a desk, hallway or bedside table. Create a Small Canvas Print.
18mm frame with 38mm option
Hand finished in Ireland
11 colour print process
Fast delivery
Securely packaged
Full satisfaction guarantee
| | |
| --- | --- |
| 20cm x 20cm (8in x 8in) | €7.20 |
| 25cm x 25cm (10in x 10in) | €14.40 |
| 30cm x 30cm (12in x 12in) | €18 |
Rectangle
| | |
| --- | --- |
| 30cm x 40cm (12in x 16in) | €19.20 |
Delivery information and costs for this product range;
Courier - Ireland Tracked service
Estimated 2 - 3 Working days
from €8.57
Priority Tracked - Royal Mail
Estimated 3 to 5 days
from €9.58
Courier - Parcel Force - Channel Islands
Estimated 3-4 working days
from €21.60
RM standard Non Tracked service
Estimated 3 to 5 days
from €4.79
Instore Collection - Banbridge
Mon-Fri 9am -3.30pm
from €3.60
Courier - Priority
Estimated next working day
from €8.64
Priority Tracked - Royal Mail
Estimated 3 to 5 days
from €9.58
RM standard Non Tracked service
Estimated 3 to 5 days
from €4.79
Priority Tracked - Royal Mail
Estimated 3 to 5 days
from €9.58
Courier - Parcel Force - Highlands & Islands
Estimated 3-4 working days
from €18.72
RM standard Non Tracked service
Estimated 3 to 5 days
from €4.79
Parcelforce Tracked Courier Service
Estimated 2 to 4 days
from €10.79
Royal Mail Special Delivery
Estimated 1 to 2 days
from €10.80
Priority Tracked - Royal Mail
Estimated 3 to 5 days
from €9.58
Customer reviews
4.9/5
Based on 418 customers
I got one elsewhere and had to dump it. Colours were disastrous. This is perfect

So happy with my purchase. Canvas prints turned out better than I had imagined. I shopped around and Pixaprint were by far the cheapest per item and also cheapest for delivery charges. So happy with my purchase would highly recommend The quality

Extremely happy with my picture top class work, very well packaged, great company fast delivery will order more ??

Very happy with iPhone 10 picture quality

This product was so well made. I tried to get the same frame made twice with another company with horrible results. Pixa Prints did a beautiful job!!

I order the canvas. I really liked it. Very well made. Not my first purchase from here. Outstanding work everytime

Very efficient and the quality is amazing!

We are absolutely amazed by the printing quality and all workmanship of the canvas.

Very quick delivery+great quality,good colour etc

Good product , good value . No issues

Excellent quality canvases, quick delivered and very well secured packaging.

The colour and quality of the canvas print are fantastic. Arrived in brilliant time and packaged so well. Very happy!!

Came as described, quick delivery, excellent service!!

Really happy with their product

Very happy with the quality of the final product, was also delivered really fast just before Christmas

The finish product was exceptional quality and looked great. It was the perfect size to make a pattern of 3 on my wall. It arrived within 3 days of ordering. I couldn't have asked for any more.

Very good products, excellent print quality! Will order again.

Really happy with the result, incredible quality

I was very pleased with my canvas - good quality, great value for money and quick turnround - thank you!

I loved my canvas, I thought it was great value for money. The quality is very good and it packaged very well. I will definitely be ordering again.

Delighted with my order. It literally came within 2days of ordering and the canvas is even better than I thought! Brilliant service.

Very happy with this picture of my niece. Very prompt service. I will definitely order from this Company again. It was very well packaged al

good quality cant fault it

Great quality, fast delivery

I'm not a fan of little photos in frames, these are gorgeous. This was actually my second time ordering a picture and will definitely be doing again.

Quality canvas, arrived very fast.

This turned out better than i had imagined and arrived very quickly! Will definitely use this service again and recommend to friends ????

Gorgeous product and fast delivery

I ordered 2 canvas's from Pixaprint and I usually wouldn't write a review but I really felt I needed to because I found their service second to none. My canvas's were amazing quality and excellent value and the delivery was so quick, the whole process of making the canvas to receiving them was so smooth and I would 100% be using pixaprint again, they will be my go to website for any photo products.

Very happy with fast service

The image was very clear and detailed

Delivered in 5 days from order, well packaged and in great condition. Quality of the canvas was outstanding and I will be back!

Bought it for my mom. We both loved it

excellent, delighted with quality

Really easy to make. Quick delivery. Replies to emails within minutes. The quality and end design is unbelievable

Good quality, good prices and delivered really fast!

Prompt delivery. Print quality excellent.

Very happy with the service, easy to design the print, and very swift service as promised. Three days after I ordered I had my canvas prints! Very good quality, totally satisifed : )

What a service. I ordered 2 canvas and they were delivered to my door in less than 48 hours. To say I am happy is an understatement. Thank you Pixaprints.

Quality is brilliant will deal again

Excellent service, quick delivery, happy customer.

Really happy with the product....5 stars

Really happy. Came so fast. It's irish and it was really well done. Will definitely order from them again.

The photo reproduction onto canvas was excellent, far better than expected. Service, packaging and delivery was outstanding. I received the canvases 2 days after placing my order. Thank you very much!

the quality is excellent, arrived so quickly, so easy to order, will be ordering again

I am so delighted with the photo I received from Pixaprints. The quality was excellent, ease of ordering was simple and the speed of delivery was brilliant...It was excellently packaged and I have every intention of ordering again !! Delighted with my order

Very cheap, top quality canvas. Will buy more

Absolutely top quality products and customer service. Thank you

I am really happy with the outcome, cannot fault the Quality of the print.

100% recommend, quality is amazing

I ordered a print of my little cousin! Absolutely amazing!! The quality of the photo was immense, I couldn't have asked for it to be any better. I ordered it on the Tuesday and really needed it by the Friday for family event. I mailed PixaPrints and they kindly helped me and had my order out in time! Thank you PixaPrints Thank you P

Excellent quality... Super fast delivery... I highly recommend Pixaprints

Fast production, shipping and well packaged. I am really happy with the product!

Excellent quality, inexpensive & swift delivery. A second order has been put in. Very satisfied with the service overall.

I love ordering from here

Perfect as usually....???????????? I am very happy with everything..Super FAST service TOP QUALITY ???????? Never had problem or delay especialy in COVID - 19 time... A+++ Very happy customer HIGHLY RECOMMENDED this company to anyone ????????????

Really happy with the finished product! So easy to order and very fast delivery!! Would recommend ????????????

Absolutely delighted thank you

Order arrived within 2 days. Packaging environmentally friendly which is fantastic. Really happy with my order.

I got a photo on canvas and it turned out very well. Great value for money.

Its ok should of got it in a bigger size mad!!!!

Quality for the cost was exquisite. And very fast delivery too

Very easy app - beautiful reproduction of a photo onto canvas for a birthday present - and very reasonable price. Delivered with a few days - great service - this is my second time using pixa prints - very happy

Loved the quality and service, also very speedy delivery will definitely be using again

The design app was one of the best and easiest to use but still there was slight cropping of my photo that I could not adjust.

Absolutely brilliant quality and quick delivery. Perfect gift...recipient was thrilled.

Very happy with the canvas prints I had made. It was an easy process to design and edit them, they arrived very quickly, were packaged really well and were of execellent quality. Lots of people have commented on how well they look.

Good quality... would buy again.
100% satisfaction guarantee
High quality printing
Fast delivery ,
shipped by Monday 5th