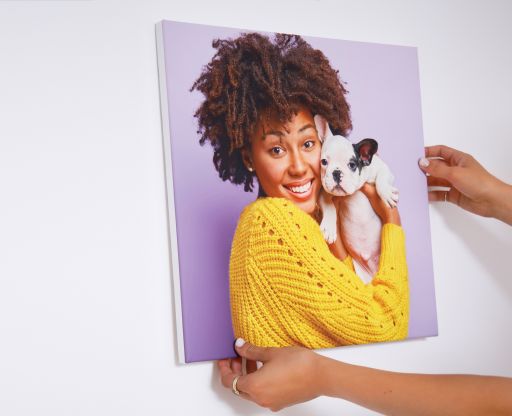 Canvas Prints
from €7.32, shipped Monday 30th
Made locally in Ireland
Choice of 18mm or 36mm frame
Hanging kit included, free
100% satisfaction guarantee
High quality colour reproduction
Upload your photo or import from Facebook and Instagram. Our online software allows you to order and personalise your photo canvas print in minutes. All our canvas prints are hand stretched by our local team in Ireland in our lab. 100% satisfaction guarantee on our canvas printing service, we ensure every print is perfect.
Square
| | |
| --- | --- |
| 20cm x 20cm (8in x 8in) | €6.96 |
| 25cm x 25cm (10in x 10in) | €11.52 |
| 30cm x 30cm (12in x 12in) | €15 |
| 40cm x 40cm (16in x 16in) | €20.76 |
| 50cm x 50cm (20in x 20in) | €32.16 |
| 60cm x 60cm (24in x 24in) | €37.92 |
| 76cm x 76cm (30in x 30in) | €50.64 |
Rectangle
| | |
| --- | --- |
| 30cm x 40cm (12in x 16in) | €16.08 |
| 40cm x 50cm (16in x 20in) | €23.04 |
| 40cm x 60cm (16in x 24in) | €25.32 |
| 50cm x 76cm (20in x 30in) | €31.08 |
| 60cm x 91cm (24in x 36in) | €48.36 |
| 76cm x 101cm (30in x 40in) | €58.68 |
Delivery information and costs for this product range;
Courier
Estimated 1-2 working days
from €7.32
Priority Tracked - Royal Mail
Estimated 1-2 working days
from €9.12
Courier - Parcel Force - Highlands & Islands
Estimated 3-4 working days
from €21.36
Standard delivery - Royal Mail
Estimated 2-3 working days
from €4.56
Courier - Priority
Estimated next working day
from €8.28
Priority Tracked - Royal Mail
Estimated 1-2 working days
from €9.12
Standard delivery - Royal Mail
Estimated 2-3 working days
from €4.56
Courier Standard - Parcel Force
Estimated 2 working days
from €10.32
Priority Tracked - Royal Mail
Estimated 1-2 working days
from €9.12
Customer reviews
4.9/5
Based on 453 customers
Very happy with the service, easy to design the print, and very swift service as promised. Three days after I ordered I had my canvas prints! Very good quality, totally satisifed : )

What a service. I ordered 2 canvas and they were delivered to my door in less than 48 hours. To say I am happy is an understatement. Thank you Pixaprints.

Absolutely delighted with all products I ordered, just what I wanted, it was quick and easy to order and was delivered exactly on delivery date. Will highly recommend to friends and family!

Really pleased with this product. The finish and quality is excellent and it arrived very quickly and packaged perfectly. Thank you Pixa Prints. V impressed!

Quality is brilliant will deal again

Excellent service, quick delivery, happy customer.

I received my canvases really quickly, they are really high quality for a great price!!

Product quality very good and very prompt delivery

Really happy with the product....5 stars

Absolutely loved my canvas

Really happy. Came so fast. It's irish and it was really well done. Will definitely order from them again.

The photo reproduction onto canvas was excellent, far better than expected. Service, packaging and delivery was outstanding. I received the canvases 2 days after placing my order. Thank you very much!

the quality is excellent, arrived so quickly, so easy to order, will be ordering again

I am so delighted with the photo I received from Pixaprints. The quality was excellent, ease of ordering was simple and the speed of delivery was brilliant...It was excellently packaged and I have every intention of ordering again !! Delighted with my order

Very cheap, top quality canvas. Will buy more

Absolutely top quality products and customer service. Thank you

I am really happy with the outcome, cannot fault the Quality of the print.

I was so happy to find this website with reasonable prices. It was so easy to create my canvas and customer service agent Glenn was a gem helping me with an issue. I was delighted to see it was a live chat too! My canvas arrive extremely well packaged with lots of protective material around it. Colours are beautiful and full of contrast. I'm amazed! Will definitely order more in the future.

Great fast service from design to delivery

100% recommend, quality is amazing

I ordered a print of my little cousin! Absolutely amazing!! The quality of the photo was immense, I couldn't have asked for it to be any better. I ordered it on the Tuesday and really needed it by the Friday for family event. I mailed PixaPrints and they kindly helped me and had my order out in time! Thank you PixaPrints Thank you P

Excellent quality... Super fast delivery... I highly recommend Pixaprints

Delighted with the product. Its exactly what I ordered and expected.

Fast production, shipping and well packaged. I am really happy with the product!

Excellent quality, inexpensive & swift delivery. A second order has been put in. Very satisfied with the service overall.

Excellent quality and super fast delivery at a great price. Will definitely be using this again

I love ordering from here

Perfect as usually....???????????? I am very happy with everything..Super FAST service TOP QUALITY ???????? Never had problem or delay especialy in COVID - 19 time... A+++ Very happy customer HIGHLY RECOMMENDED this company to anyone ????????????

Quick delivery and great quality

Extremely happy with these canvas prints. Came exactly how I ordered and wrapped perfectly to prevent damage in transit. Less than 2 days turn around! Amazing company. Can't fault them.

I'm over the moon with the print. Amazing quality and super speedy production time and delivery. Great contact with customer too. I'm delighted with it :)

Really happy with the finished product! So easy to order and very fast delivery!! Would recommend ????????????

I uploaded an old photo and cannot believe the quality and the way it turned out> Absolutely thrilled with the product. The service was so quick also

I'm absolutely thrilled with your work. I was kinda sorry I didn't let picture go around the edges but that's my fault. I have showed it to many and have praised your work and speed. Looking forward to using your skills again . Thank you . Brigid Byrne.

Absolutely delighted thank you

As I expected and speedy delivery..

No words, amazing works and service, A++

Order arrived within 2 days. Packaging environmentally friendly which is fantastic. Really happy with my order.

Very happy with the whole process. Very accommodating and easy to deal with. I made a last minute change to date of delivery and address and it was no problem at all. Have used before and will continue to use again.

I got a photo on canvas and it turned out very well. Great value for money.

Its ok should of got it in a bigger size mad!!!!

Excellent service super fast delivery.

Very happy with my product, came in no time at all fast delivery and product was excellent

Have to say top class product from the Pixaprints lads highly recommended

Quality for the cost was exquisite. And very fast delivery too

Very easy app - beautiful reproduction of a photo onto canvas for a birthday present - and very reasonable price. Delivered with a few days - great service - this is my second time using pixa prints - very happy

Photo on canvas was amazing, quick delivery and excellent quality

Great quality. Very fast delivery.

Took a chance with this, as had tried others but got poor results. But the photo came out beautifully. It was packaged really well too. Would recommend & I will def get more done!!

Loved the quality and service, also very speedy delivery will definitely be using again

Excellent quality, fast delivery,highly recommend,will be buying here in future.

The design app was one of the best and easiest to use but still there was slight cropping of my photo that I could not adjust.

Absolutely brilliant quality and quick delivery. Perfect gift...recipient was thrilled.

Very happy with the canvas prints I had made. It was an easy process to design and edit them, they arrived very quickly, were packaged really well and were of execellent quality. Lots of people have commented on how well they look.

I am really happy with the canvas that I received. Buy it for my mother in law and she loves it. Would recommend

Great service, easy to design your canvas, ridiculously pleased with finished product! Will definitely be canvassing all my future prints here! Tiniest of moans though, truly tiny, I had also ordered a 4ft×3ft canvass and when the package came by an post i noticed my package bend at a little angle in the back of the van! I picked the postman up on it and his reply was 'well there were no 'fragile' stickers on it'! A lax attitude granted, but being fragile a a pretty large piece I think fragile stickers may have been warranted! Hower, thanks to the extremely good packaging, luckily there was no damage! Small moan I know! Speedy delivery too! Would definitely recommend pixa prints to anyone and everyone!

Easy to design, very quick turn around time and speedy delivery. Very secure packaging. Would definitely use again and would recommend.

Excellent quality, quick delivery, extremely happy.

Once again I got my print in time and in excellent reproduction quality. Great job.

Good quality... would buy again.

I am very happy with my canvas picture, really good quality. The delivery was really quick, I ordered my picture on Sunday, arrived on Tuesday.

The print was good quality and arrived very fast, but the picture is too close to the sides of the canvas, which is a startlingly bright white. The space around the picture is very hard to guess if you've never done it before, but I will know next time. I will also use an off-white background colour next time, as the canvas is such a bright white that it looks out of place on a normal white wall.

Delighted with my canvas! Prompt service, arrived early and was well packaged. I have recommended Pixa Prints to all my family and friends!

I am really happy with my order. It was delivered very quickly and the service itself was so easy to use. I will definitely be ordering from the site again.

Great quality, fair price, quick Delivery

Really happy with the results. The colours on my design were very vibrant and this came out exactly right on the print. Very quick delivery. Customer service very easy to deal with.

Very fast delivery, received within a week. High quality canvas print and well packaged on delivery.

great product and fantastic service

Very happy with my purchase. It is a gift for Christmas. Great quality and price. Very fast delivery. Packaged well. Very easy to design.

I am very happy with your service, quality and prompt delivery.

Everything from starting my order to receiving my order was great. When uploading photos, I was told wether or not the photo was of good enough quality to be used. There was lots of different options for sizes and layout etc. After submitting my order I was receiving emails to update me of it. It arrived by courier within a couple of days. I was amazed at the quality of it for such a low price. 5 stars all the way!
100% satisfaction guarantee
High quality printing
Fast delivery ,
shipped by Monday 30th
Canvas prints Ireland
Create your own custom canvas print with our wide range of options.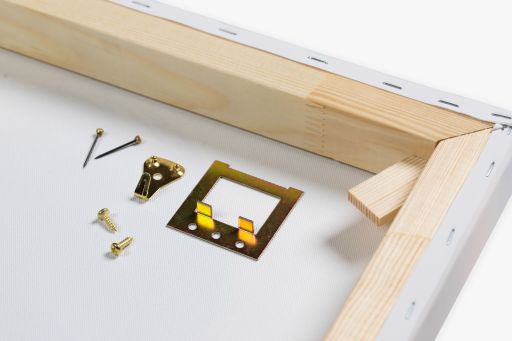 Hanging kit included
Don't waste time running to your local hardware store, all of our canvas prints come with a free hanging kit. Unbox it and hang easily, canvas pictures on the wall in minutes.
Choice of edge finishing
Options are great and our online designer allows you to customise the edges of your canvas. The standard option is to have the photo printed around the edges of the canvas. However, it is easy to switch to white sides or a colour of your choice.
To change, click on the "Options" tab in the design tool.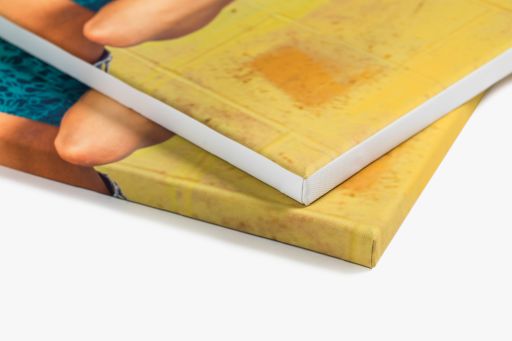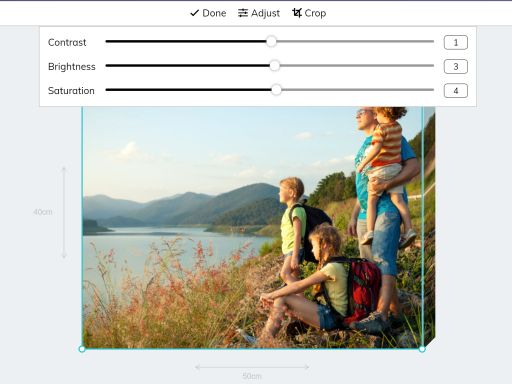 Enhance your picture
Love the photo but it is a bit dark or washed out? No problem, our online design tool allows you to adjust brightness, contrast and saturation of colour. Make the perfect photo canvas with perfect colour.
To adjust your photo in the canvas design tool, drag your photo over and then click on it. A menu will pop up with an "Adjust" option.
Popular questions about canvas prints
Yes all of our canvas prints come with a free hanging kit so hanging your canvas is a breeze. The hanging kit includes a bracket for the canvas frame and a hook that is attached to the wall.
In Ireland we use express couriers to deliver your canvas. If you order before 6pm we aim to ship your canvas the next working day. If you ordered before 6pm on Wednesday it would be delivered Friday.
There are two frame options for our canvas prints, 18mm and 36mm. We do not charge extra for the thicker frame. You can easily change your frame thickness when you are designing your canvas.
Yes but you will need to select the collage canvas product. Our standard canvas prints are specially made for 1 photo per canvas.
We want all of our customers to be happy and that is why we offer a 100% satisfaction guarantee. If there is an issue with your canvas please call us.