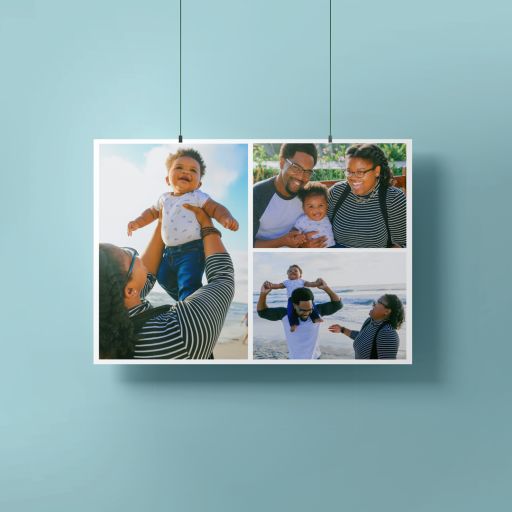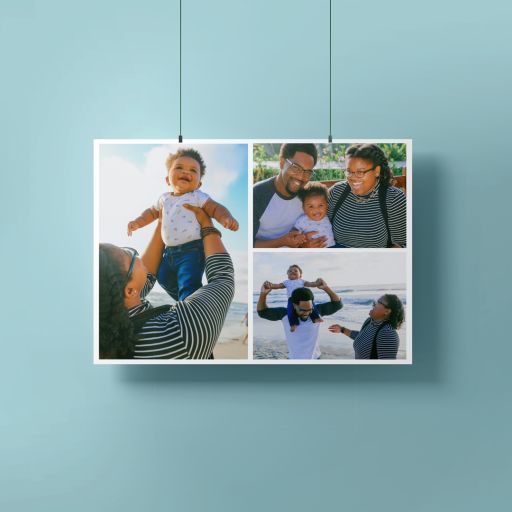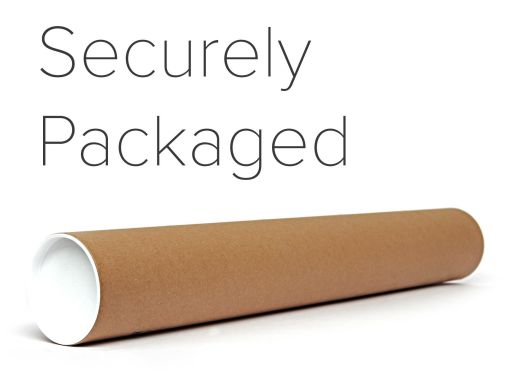 Photo Collage Poster Prints
100% satisfaction guarantee
Made locally in Ireland
260gsm lustre photo paper
Design your own or choose from one of our templates
Change the background colour on your photo collage
Photo collage prints printed onto 260gsm lustre photo paper as used by photographers. Each print is checked by eye before dispatch to ensure accurate colour reproduction
Square
| | |
| --- | --- |
| 12" x 12" | €5.99 |
| 16" x 16" | €10.80 |
| 20" x 20" | €19.20 |
| 24" x 24" | €22.80 |
| 30" x 30" | €25.20 |
Rectangle
| | |
| --- | --- |
| 12" x 16" | €9.24 |
| 16" x 20" | €14.40 |
| 16" x 24" | €15.60 |
| 20" x 30" | €19.20 |
| 30" x 40" | €26.40 |
| 36" x 48" | €31.20 |
Delivery information and costs for this product range;
Courier - Ireland Tracked service
Estimated 2 - 3 Working days
from €10.80
Priority Tracked - Royal Mail
Estimated 3 to 5 days
from €9.58
Courier - Parcel Force - Channel Islands
Estimated 3-4 working days
from €21.60
RM standard Non Tracked service
Estimated 3 to 5 days
from €5.76
Instore Collection - Banbridge
Mon-Fri 9am -3.30pm
from €3.60
Courier - Priority
Estimated next working day
from €8.64
Priority Tracked - Royal Mail
Estimated 3 to 5 days
from €9.58
RM standard Non Tracked service
Estimated 3 to 5 days
from €4.79
Priority Tracked - Royal Mail
Estimated 3 to 5 days
from €9.58
Courier - Parcel Force - Highlands & Islands
Estimated 3-4 working days
from €18.72
RM standard Non Tracked service
Estimated 3 to 5 days
from €5.76
Parcelforce Tracked Courier Service
Estimated 2 to 3 days
from €10.79
Royal Mail Special Delivery
Estimated 1 to 2 days
from €11.52
Priority Tracked - Royal Mail
Estimated 3 to 5 days
from €9.58
Customer reviews
4.9/5
Based on 42 customers
Great product and fast delivery!

This was a special present for a little boy moving away from all his friends and i could not have asked for a better service.

Really happy with the quality of the photo poster and the speed of production and delivery - I had to update some details after I had submitted the order and there was no problem at all.

So delighted with the products. Great app. Would definitely recommend to anybody.

Easy to use website, good quality and really swift delivery. Would recommend.

I absolutely love this collage ????????????

Collage Poster arrived less than 48 hours after ordering and a day earlier than expected delivery! Excellent quality. Delighted!

Ordered 3 poster collages and they arrived so quickly and were great quality. Excellent service.

This was such an easy product to use, the quality was excellent and my order was here in 2 days! Will definitely use again

Turned out very well easy to upload photos to template

happy with easy use website, fast delivery, good quality and value, thumbs up!!!

Was alot bigger (which was better) than i thought. Took a few minutes to figure out how to work the design but once had that hang of it i could design it what ever way i wanted. Arrived very quickly and in great condition. Was made for a friend and he loved it .

The delivery was the most impressive part arrived in a couple of days. Found the software to generate the collage easy to use much better than competitors. Very pleased with end product.

One photo did not come out which was extremely dissapointing! But overall happy with it

I'm so happy with my order,I recommend to everybody,delivered 2 day's afterwards and quality of pictures was amazing, thank you

My first time ever getting a collage print from Pixa Print and I'm delighted with the result.

I immediately noticed that the tube holding the photo collage had been squashed. I didn't think it would have damaged the photo but it had put an obvious crease in it. I needed to get it framed for a friends birthday and that weekend so had no time to get a replacement. I really liked the quality of my photo collage but all I could see was the crease. I have since given the collage to my friend.

Item arrived very quickly and in perfect condition. Staff were very friendly and happy to help!

Really happy with the quality of the piece. Very unhappy with the packaging. The tube arrived dented and therefore the picture was dented in two places. Was hoping to give this to a friend as a momento of her wedding but I can't now ! Very disappointed. Would recommend on the quality of the piece but not on the packaging. You need to improve the quality of your tubes.

easy enough to put your required design together. Many options to choose from. fast delivery and well wrapped. Very happy with it

I ordered a collage as an engagement present for two friends. I ordered the wrong size and contacted staff via email. They were extremely helpful and allowed me to get a collage made in A4 size even though the option didn't technically exist. They then refunded me the difference without me even having to ask. Once ordered the collage arrived the next day. It was absolutely perfect and the couple loved it. Would highly recommend, excellent value for money too.

I am so delighted with my product it was amazing and they delivered it on time which i was really pleased with i would highly recommend

It was more than I imagined it to be, great quality, and I loved how I could add the images to the poster how I wanted to and to such a big sized poster too

Live everything I ordered will Def be ordering more

Special collage poster print of the pets for my animal crazy daughter. Unique and will make a great gift this Christmas. Good quality and images come up really well. Easy to work website, shipping was fast and well packaged.
100% satisfaction guarantee
High quality printing
Fast delivery ,
shipped by Thursday 28th