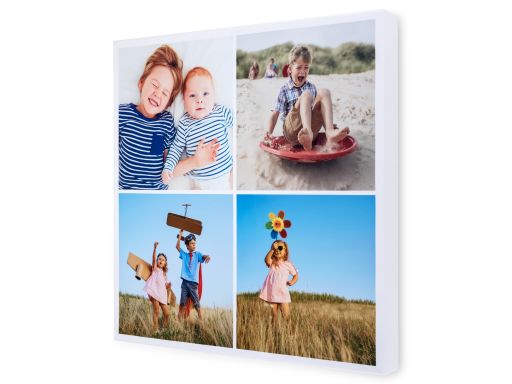 Collage canvas prints
from €7.32, shipped Tuesday 1st
Choose from 18mm or 36mm frame
Range of sizes
Made locally in Ireland
Hand stretched
Hanging kit included
More than one photo? Order a photo collage canvas print and create your own unique design. Upload your photographs and create your canvas in minutes using our design tool. 100% satisfaction guarantee on all canvas prints.
Square
| | |
| --- | --- |
| 25cm x 25cm (10in x 10in) | €11.52 |
| 30cm x 30cm (12in x 12in) | €17.28 |
| 40cm x 40cm (16in x 16in) | €20.76 |
| 50cm x 50cm (20in x 20in) | €32.16 |
| 60cm x 60cm (24in x 24in) | €37.92 |
| 76cm x 76cm (30in x 30in) | €48.36 |
Rectangle
| | |
| --- | --- |
| 30cm x 40cm (12in x 16in) | €17.28 |
| 40cm x 50cm (16in x 20in) | €23.04 |
| 40cm x 60cm (16in x 24in) | €25.32 |
| 50cm x 76cm (20in x 30in) | €34.56 |
| 60cm x 91cm (24in x 36in) | €48.36 |
| 76cm x 101cm (30in x 40in) | €58.68 |
Delivery information and costs for this product range;
Courier
Estimated 1-2 working days
from €7.32
Priority Tracked - Royal Mail
Estimated 1-2 working days
from €9.12
Courier - Parcel Force - Highlands & Islands
Estimated 3-4 working days
from €21.36
Standard delivery - Royal Mail
Estimated 2-3 working days
from €4.56
Courier - Priority
Estimated next working day
from €8.28
Priority Tracked - Royal Mail
Estimated 1-2 working days
from €9.12
Standard delivery - Royal Mail
Estimated 2-3 working days
from €4.56
Courier Standard - Parcel Force
Estimated 2 working days
from €10.32
Priority Tracked - Royal Mail
Estimated 1-2 working days
from €9.12
Customer reviews
4.9/5
Based on 137 customers
Awesome, very happy with the product, great quality and super easy and quick

Really fantastic and arrived a day early.

Canvas arrived quicker than I thought it would,with the situation it is, delighted with it,its absolutely fab ?

I got a canvas for my sisters birthday, very easy to design using pictures off my phone, great quality and good packaging. Will definitely use this site again

Very quick from order to delivery, quality product, really happy. Will use again & recommend to family & friends.

I bought as a present for my mam and it turned out beautiful. I was very happy with it i will definetly use this service again

Great service, very quick. Quality was very good. Price very reasonable! Will definitely get more

This arrived so quick I cant wait to order another one I bought one for a family gift and my own family then were even better than u thought I'm so impressed I highly recommend!

Very quick delivery and a beautiful product. My canvas was just lovely, thank you! :)

The photos were larger than I expected as it was an Irish site I obviously thought the measurements would be metric. This should be shown clearly on the site. The photos were a birthday gift for my son.

Hilarydunphy@hotmail.com H.

Turned out better than I expected...must order another

Exceptionally pleased with the Final Product, How easy it was to put together and also how timely it was in arriving. Go raibh maith agat

Really impressed with the finished product

Ordered a collage canvas and was very happy with the way in which it turned out. It was easy to design and the quality was excellent. Will definitely be ordering again.

product arrived very well packed but I had made a mistake with text overlaying a photo. The design wasn't too clear when I went to buy.

Amazing work. Crystal clear pictures. Excellent service regarding updates of shipments.

Couldn't have asked for better. The collage was present for my husband. He lives it and the quality is amazing. Great service. Everything went as planned. Well done

Ordered a large canvas with different photos for mother's day, Absolutely love the result !! Didn't realize the quality would be soo good from phone photos ! Will be back !!

Absolutely love my canvas! Outstanding service and two days to delivery from submitting my order so super quick! Going to order the exact same canvas again for another room in my house i loved it that much! Fab work Pixa! I will be highly recommending you to many!!

Excellent quality and easy to hang. This was my second order and I am about to purchase my 3rd order. My house will be covered in canvas's.

I was honestly ao happy with everything from the price to the end result. Pixar prints will definately be a top choice for next time!

I was delighted with the collage it was really easy to set it up at my end. It was exactly what I wanted delivered so fast & price was reasonable. The only complaint I have is they should have been an option for whether I wanted it framed or not. I was posting it to my son in in Australia I expected it to arrive with canvas in a roll & frame in pieces that he would put together himself & wouldn't be too expensive to post. So you can imagine my surprise when it arrived already framed it cost me as much to post it as the initial cost to purchase. Other than that I was very happy.

I was delighted with me collage canvas l was so happy with the finished product would recommend highly thank you so much

canvas is so much better than I imagined. will be ordering more. really fast service and would highly recommend to everyone.

delighted with product. could not believe how quickly it arrived. will certainly use pixa prints again!

It's well done, but I found the canvas very transparent

Very happy with end product ,well packaged and very fast delivery

Great products....canvas arrived in two days! Great colour and finish.

I got this collage picture done for my dad's 70th birthday,I could not have been happier it came out lovely and clear,couldn't believe how quick it came,great communication from the minute I ordered it,letting me know when it was being printed then framed and finally delivery.It came very securely packaged and above all else my dad loved it.

Ordered my canvas print Monday evening & received it Wednesday. The packaging that the canvas arrived in was very sturdy and high quality cardboard material the canvas itself was wrapped twice in bubble wrap . The canvas was exactly what I ordered, great quality on the print itself, and frame was flawless. Hanging fixtures also included. First time customer with Pixa Prints & I'm more that thrilled with the end product. Will definitely be ordering again from this company. Just to mention the courier person who left the package in a safe and secure place 10 out of 10.

Couldn't fault the service or tge product, extremely happy, thank you!

It looks fabulous. I couldn't be happier with the product

Delighted with my canvas. Easy to upload and quality great all for a great price.

Bought it as a mother's Day gift and she was delighted and so over joyed, she absolutely loved it and I couldn't be anymore thrilled with it thank you definitely going to do more purchased in the future 5 stars ????

Thanks so much for sending so quick, ordered late Sunday night got to Ireland on Tuesday. Canvas was a present for my sister and she loved it. Also Glenn from customer service was super helpful and quick at responding! Thanks a mil, will be ordering again!

After getting a present of a canvas for Christmas from my hubby we wanted to get another. Thus time we went for the 12 photo canvas. I was nervous with the quality with so many photos in it but it was just fabulous and we've since ordered calender. I've been telling all my customers about pixaprints.

Thank you for your job! All product are amazing! Amazing Christmas present for the Grandparents! :)

Great product! Good quality.

Was really happy with how my canvas turned out. Will definitely order again.

Canvas collage is great quality and pictures are good quality also! A lot bigger than i imagined it to be

Superb service. High standard of product, very reasonable price, quick and overall would highly recommend.

great canvas, turned out really well. definitely worth the money. Would 100% recommend.

Everyone loves the canvas. My sister is hoping to get one of her family now too

Thank you so much. My canvas collage turned out fantastic! I'm delighted with it and so is my mum, as it was a gift for her. When I was arranging the photos on your site, some of my photos came up as "Poor quality", so I was a little nervous as to how it would turn out. I didn't need to be nervous at all, as the collage is perfect. Also, delivery was super quick! I ordered on Tuesday afternoon and I had it by Friday afternoon. Being able to track the delivery was very handy too. I knew when I had to be home for it arriving.

very happy wit the produkt is abargain really

The photos were transferred with better quality than expected

All products arrived in perfect condition, no skimping on packing here.

This is a good quality product as the canvas creations do vary depending on who creates them. Delivery was quick and well packaged. Thank you.

It was so easy to design, pricing was clear and delivery was fast. I'm thrilled with the canvas and the price. Would recommend and will use Pixa Prints again.

Easy website to use, canvas was great quality, postage was quick... Would use this company again for sure... Have already recommended it to friends

Brilliant price and brilliant photos will definitely use more often

Delighted with my canvas collage from pixap prints ????

Came out better then the picks I have . Would buy again .

The canvas wasn't well stretched across the frame and needed tightening when it arrived. A pity your quality team didn't notice when it was being dispatched. Very well packaged and arrived in good time. It could have been perfect!

So easy to use, very fast delivery and reasonable price - overall excellent

Arrived on time, photo quality is perfect.

I love the collage of pictures. It has turned into a beautiful momento of a life-time experience. I am looking forward to giving this to my son and seeing the look on his face. I think he will love this on his wall to remind him of a fantastic summer. The quality of the canvas is excellent and it was wrapped and transported professionally. Really happy!

Ordered this for my niece for her birthday. It arrived within two days of ordering. Quality excellent as always and service brilliant. Highly recommend this company.

Absolutely brilliant, I couldn't recommend them enough!

Product was of excellent quality & delivery was so fast

Ordered a canvas to give as a gift to our soon-to-be bride. It was a collage of 3 photo's and was so impressed at how it turned out! The pictures are clear, and the colours are vibrant. The size of the frame was perfect! It was so easy to make and order online, and it was delivered very quickly. Packaging was very good. Great value for money - will definitely use this website again. A++

Very easy to upload the photos and design the collage. Product arrived within a day or two and is exactly as expected. It looks great.

The canvas is amazing and it was easy to do. I could half design something, then come back and edit later - that's brilliant! It was delivered quickly, in great condition, with the quality of the canvas being even better than i'd expected. delighted with the final product. thank you!

I absolutely loved it. I ordered it as a gift for my sister and she loved it too and I will definitely be ordering one for myself and others again. I was so happy with it. I ordered a collage and the photos came out so clearly. I really couldn't recommend your company enough. Tha ks so much

Turned out very clear and looked really well, very happy with it.

I ordered a canvas for my boyfriends birthday and I found it quite easy to design and when the product arrived I loved the quality, however, when my package arrived with the courier it came in a box that was damaged and opened . Now I do know it's only the box and the product was still in bubble wrap but I felt cheated as when customers order online, pay for delivery and have their package delivered by courier they expect care and no damage . Maybe this needs to be looked into as other customers or myself as a returning customer may not be so lucky to not have their product damaged . Thanks again fingers crossed he likes it !

My canvas creation turned out fantastic. The quality and finish is really good. I really appreciate all your help and advice with the photo quality while I was creating the college. Fantastic Customer Service and Outstanding Canvas Quality at a Great Price. Thank you

It was a pleasure dealing with Pixaprints. Delivery was extremely quick and the quality of the pictures was amazing. It is so easy and straightforward creating the designs online and Glenn was so professional and friendly helping me with my queries!! Will use again and recommend to my friends!!! Thanks a mill Pixa Prints :)

Service from start to finish was amazing couldnt fault it at all. Even when i didnt fully fill out my address correctly i mailed and it was resolved straight away. Highly reconmend pixa prints

It was a gift for my girlfriend and she is extremely happy. I ordered the collage canvas one Wednesday and the package arrived on Friday morning. The quality of the pictures is perfect. I really recommend this company and the canvas

I was very happy with quality of this product and so impressed with the delivery. It arrived in 48 hours after ordering. Would definitely recommend and will order again.
100% satisfaction guarantee
High quality printing
Fast delivery ,
shipped by Tuesday 1st