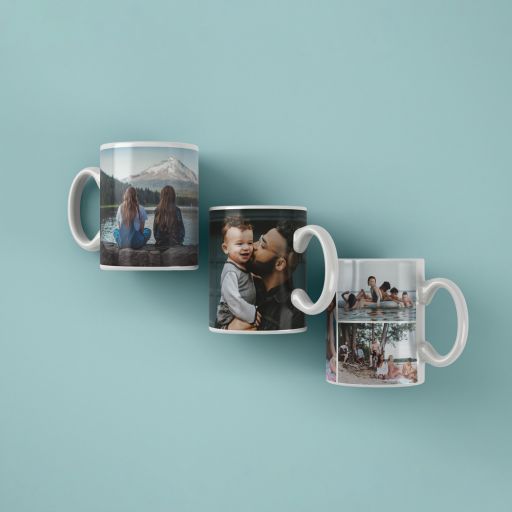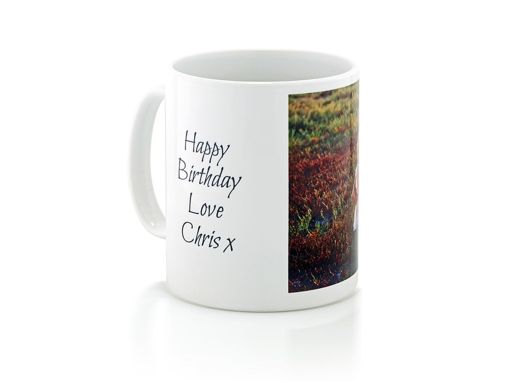 Personalised Themed Photo Mug
100% satisfaction guarantee
10oz mug
Bright white ceramic
Pick from a range of designs
Our personalised mugs are dishwasher safe
Enjoy that cuppa with your own personalised photo mug. Bring back memories of friends and family with a collage or simply create your own with a personal message. Choose from one of our pre made designs.
Delivery information and costs for this product range;
Courier - Ireland Tracked service
Estimated 2 - 3 Working days
from €10.80
Royal Mail Priority Tracked - FAST
Estimated 2 to 3 days
from €9.58
Courier - Parcel Force - Channel Islands
Estimated 3-4 working days
from €21.60
Royal Mail Non Tracked - SLOWEST
Estimated 4 to 7 days
from €5.76
Instore Collection - Banbridge
Mon-Fri 9am -3.30pm
from €3.60
Courier - Priority
Estimated next working day
from €8.64
Royal Mail Priority Tracked - FAST
Estimated 2 to 3 days
from €9.58
Royal Mail Non Tracked - SLOWEST
Estimated 4 to 7 days
from €4.79
Royal Mail Priority Tracked - FAST
Estimated 2 to 3 days
from €9.58
Courier - Parcel Force - Highlands & Islands
Estimated 3-4 working days
from €18.72
Royal Mail Non Tracked - SLOWEST
Estimated 4 to 7 days
from €5.76
Parcelforce Tracked Courier Service - FAST
Estimated 2 to 3 days
from €10.79
Royal Mail Special Delivery - FASTEST
Estimated 1 to 2 days
from €11.52
Royal Mail Priority Tracked - FAST
Estimated 2 to 3 days
from €9.58
Customer reviews
5/5
Based on 123 customers
Great service, I made a mistake with the first one I ordered , was made very easy to rectify by this company. Would recommend

So easy to add photos and create, delivered so quickly and quality was great when it arrived. Very happy :-)

It was good but the only thing I didn't like is that one of the photos was printed half. The rest part is covered by another photo.

Iam so happy with all my product's that i ordered Thank you very much Most regards Vincent callaghan

Good quality product and fast delivery

The mug itself seems to be of good quality and very happy with the definition of the print.

Amazing work. Crystal clear pictures. Excellent service regarding updates of shipments.

Wasn't sure about the delivery date but after I contacted them the mug was fast tracked to me. I couldn't ask for more.

Designed mugs on a Saturday and all were delivered within 72 hours, well wrapped and secure. Great quality, will definitely order again.

Great quality, fair price, quick Delivery

Easy to design and good quality mug, a little more variation would be good but I'm happy with end result. Delivery took 9 days which was a little long and the link on my email for the tracking didn't work. It brought me to a blank page. Overall this is the 4th time I've bought a mug and will buy again

Exceptionally quick delivery and finished product surpassed expectations - would definitely recommend

i ordered 4 mugs and two coasters. very efficient service and the photos i sent look great on the products. great delivery time just before Christmas too

Great product,so easy to use website with fast delivery. Highly recommend. Great service .

The mugs are great and the print is amazing - happy customers.

The dad cup looked great, the quality of the pictures were not compromised at all. Delighted with product and quick delivery

I got a very old photo my friend had not seen for a very long time scanned and printed onto a cup as a special surprise gift. She was delighted and it was ideal as she loves tea. Quality is good and is dishwasher safe. My only problems were there was no preview to see how it looked on the cup and as I was making the order up it gave a delivery date which changed when I placed the ordered. This made it a bit late for the Birthday but all good besides that.

Fast & efficient.. great customer service

Really happy with product fast delivery also 5/5

Great product and really easy to design.

Delighted with it - the quality of the photo is great!

Mugs turned out beautiful. Great sevice

Top quality smooth easy transaction will definitely do business again speedy delivery to

My last mug broke a few months after Christmas (my own fault, I dropped it on a tiled floor!) So I treated myself to two new mugs this year. Delighted with them. Thanks

Definitely will order again best mugs to get printed!!

Very happy with service. Prompt delivery and excellent product. Would definitely recommend.

Really easy to set up online and photo quality is great

Super fast delivery, very happy

The colors look amazing and the mug quality as well..couldn't have asked for more!

The product was very easy to design, arrived very quickly and was of a high quality. Thanks team :-)

This was so easy to make online. I made the cup online on my phone. The quality of the product is very good and the delivery prompt. Thanjs you.

Very happy , well worth it.

I got 16 mugs printed for work, with a variety of brightly coloured designs based on our logo. I was happy with most of the mugs - the mug itself is lovely to drink from and the price and speed of service was excellent. I would buy from pixa prints again and I have already recommended them to others. However, there are some caveats which I wish I had been aware of in advance: HANDLE GAPS: There's a gap of just over 20mm either side of the mug handle before the printed design begins. Also, the gap looks ever so slightly larger on one side than the other. I used the single photo design template and filled the entire available region, so I'm assuming these gaps are always present. CROPPING: The lower edge of the print design I uploaded has been cropped by a couple of mm. That may not sound like much, but several of the designs I uploaded had specific details (e.g. text, pattern tiles) that have been chopped half way through. If I had realised this could happen, I would have left a white margin along each edge to prevent this. COLOURS: The print quality looks great on most of the mugs, but the printed colours do appear significantly different from how they appeared on my screen. I appreciate that this is a normal issue in printing anything, but I'd love to have a clearer idea how each colour will come out. DISCOLOURATION: The designs I printed include large areas of a single flat colour. One mug, which is a particular shade of blue, has some slight (but visible) discolouration. It kind of appears like a very faint red haze in places. It wouldn't bother you if you're drinking out of it, but if you had been planning to give it as a gift to your company president, you probably wouldn't. I don't think this discolouration would be visible in a photo print - but you can see it on the flat colour. So, overall I love the mugs and plan to buy more, but for me the design process would be improved by the following: 1. Specify the region of the design that might be cropped in the printing. 2. Provide clear instructions on the ideal aspect ratio and resolution when uploading a single image design (I made mine 4606x1890 px). 3. Show what area of the physical mug will be covered by the image. 4. Provide instructions on how to get a specific colour on the physical mug - e.g. what RGB value to use to get closest to a specific Pantone reference or whatever. 5. Reduce the gap between the edge of the print and the mug handle. Anyway, lovely mugs and great value. Thanks a lot!

Would highly recommend very quick to design and delivery was very quick too, product turn out amazing much better than I expected

My mug arrived within 2days of ordering - and during christmas rush! The design was perfect, exactly as I had wanted.

Arrived in two days, well in time for Christmas! Fantastic quality printing and a sharp, clean image.

I ordered two mugs & they were fantastic, super quality & arrived so quickly, I will definitely be ordering again

There's a lot of places offering personalised mugs these days, but this is the only place to go for quality products & services. The entire process of designing & ordering is incredibly easy and I found the staff and their communication to be outstanding throughout. Would highly recommend.

Easy site to use and my order came before the estimated delivery time. Very happy overall

Very fast delivery. It only took 2 days to come which is the fastest I've ever received an item. The pictures were very good quality and were not blurry at all. Very happy

My issue with packaging was that the address stickers on the box meant it wasn't very appealing as a gift box. Otherwise, it was super easy to plan the design, import a photo, and I loved the speed of delivery. I'll definitely be ordering more from this website.

Excellent value (cheapest I found even with delivery charge included)ordered late Thursday night.was sent out Friday & I received order Monday morning.very efficient.lovely quality mugs-not plastic ones like I've seen in other shops. very easy process & was kept up to date by email on dispatch etc.Excellent service

I ordered 11 mugs after midnight on Monday and these beauties arrived on Tuesday afternoon. Absolutely fantastic service and quality of products!!

great product, very quick delivery!

They arrived on time and look great i ordered 4 cups as presents and they were really happy with them such a nice gift to give, excellent company to deal with would recommend to any one who wanted to give a little more thought in a gift .

Happy with mug although one photo was quiet dark but this was my own fault.

i only order these on friday and received them Tuesday morning. the cups look lovely

Products are very good, better than i expected

Prompt delivery - quality product

great product, quick delivery, exactly as ordered

The cups were given as a present to a school I'm working in and were greatly appreciated. Delivery time was also very quick.

Great quality and very fast delivery

Bought as a birthday present for my mother-in-law. She loved it and it arrived very quickly.

Absolutely blown away with the service I received from pixaprints (you can ask the girls I work with coz I have been singing their praises!) Was kept informed the whole time of my order status and still cannot believe how quickly I received the goods!! Excellent quality! Cannot recommend highly enough!

Gift for mum and she loves it ! brilliant

Great quality and am delighted with it

The product was exactly as described and of good quality. The service was excellent, there were regular production updates and the turn around time was much quicker than expected. I would definately recommend using pixa print again.

The delivery is very fast, the product has a good quality and is exactly how I was expecting.

The mug was of good quality and the pictures were printed amazingly! Excellent product and would make an ideal gift!!

first time to order mugs & am not disappointed, super

We recently had a baby boy & my partner has always wanted a mug saying No,1 Dad so I thought it would be a great Father's Day gift for him. Great service, I received the mug 2 days after I placed my order. I'm absolutely dying to give it to him on Sunday because I know he will be delighted with his mug.
100% satisfaction guarantee
High quality printing
Fast delivery ,
shipped by Tuesday 12th
Popular questions about personalised mugs
Yes all of our personalised mugs are dishwasher proof. However, we advise customers to wash their mugs with soap and a soft cloth.
We send our mugs inside secure double packaging with bubble wrap to ensure they do not get damaged in transit. Our packaging is even drop tested.
If you order before 6pm we aim to ship your mug the very next working day. For example order on a Monday before 6pm and it will ship on the Tuesday and arrive Wednesday. In Ireand we use express couriers to ensure the mug arrives quickly.
You can use any number of photo's. We have a range of pre made template designs for you to choose from.
Yes, our online editor has a wide range of customisation options. Our ready made templates have areas setup for adding a personalised message.