Made in Ireland, no customs duty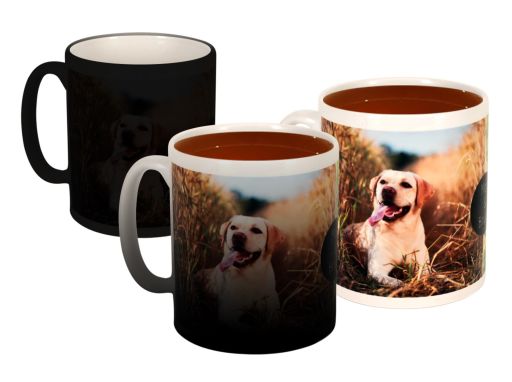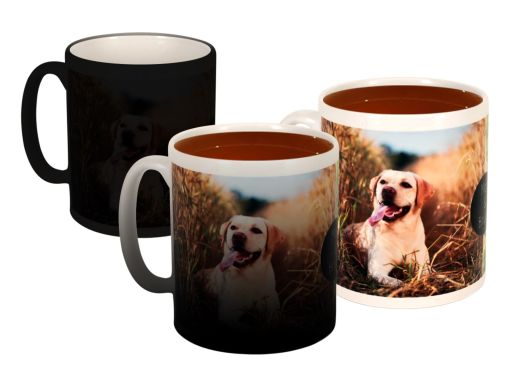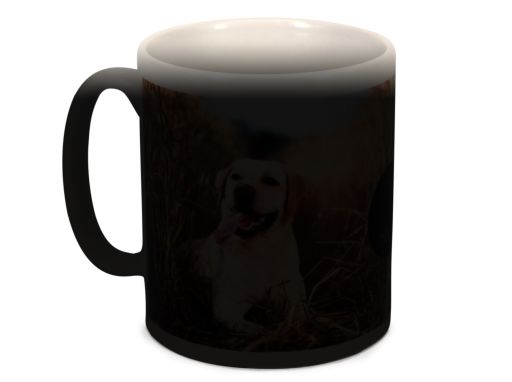 Personalised Magic Photo Mug
from €8.21, shipped Wednesday 16th
100% satisfaction guarantee
Personalise your own colour change mug. When you add hot water the image is revealed and as the mug cools, it disappears!
Starts out as a plain mug then add a hot liquid to reveal the design
Add hot water and your image reveals
Choose from a range of designs
| | | | |
| --- | --- | --- | --- |
| Size | 1+ | 2+ | 5+ |
| | €14.94 | €14.38 | €13.22 |
Delivery information and costs for this product range;
Courier - Ireland
Estimated to 2 - 5 Days
from €8.21
Priority Tracked - Royal Mail
Estimated 2 - 4 working days
from €9.18
Courier - Parcel Force - Highlands & Islands
Estimated 3-4 working days
from €21.40
Standard delivery - Royal Mail Non tracked service
Estimated 2 to 4 working days
from €4.58
Courier - Priority
Estimated next working day
from €8.28
Priority Tracked - Royal Mail
Estimated 2 - 4 working days
from €9.18
Standard delivery - Royal Mail Non tracked service
Estimated 2 to 4 working days
from €4.58
Courier Standard - Parcel Force
Estimated 2- 4 working days
from €10.33
Priority Tracked - Royal Mail
Estimated 2 - 4 working days
from €9.18
Customer reviews
4.8/5
Based on 49 customers
Great service arrived 2 days after ordering

Amazing quality. Such a fabulous mug. Great present for anyone.

Love the mug and fast delivery also.

Bought this as a gift my friend loves it

The product was a Christmas present. Excellent quality thank you.

I was super happy with the result of my mug and it made for a perfect birthday gift. The only thing that was frustrating was trying to get the whole picture included on the mug. Would have been great to have a recommended size pop up when you're uploading the picture to advise you on the optimal format. I suppose most people use photos with the standard shape, but for those feeling a bit creative, having the size called out would save some time.

The service was fantastic, I received my 2 mugs the next day when I made a special request. Very easy design and ordering process. Unfortunately you can see the images a little even when cold but the heat sensitive effect is still great!

I always come back to Pixa!

Great mug, only downside is that the picture is clearly visible through the black.

Got as a present for grandad from my daughter, he loves it. My daughter loved the magic mug. Photo quality and service 10/10 had order in 2days. Will never go anywhere else now!!

Great product, really happy. Would recommend and buy again. Fast delivery.

So happy with this, ordered it as a Christmas present and arrived a few days later 100% as described. Lovely personalised present ????

The website and design process was very user friendly and easy to use. Once mugs have hot liquid in them, they change and look brilliant. however you can see the design quite clearly through the black magic exterior so doesn't have the wow factor I had imagined

Got this for a gift was a little bit disappointed that you could see picture through the black but overall happy with this product. would recommend.

After an issue with the delivery of the product, Pixa Prints were so quick in dealing with the situation (through no fault of theirs). We had a replacement mug out within days. Great customer service. Initial order was so easy and was dispatched very quickly. Would highly recommend.

Order received within 3 days of ordering. The order was well packaged and not damaged on arrival. The design was exactly as I imagined it. Overall very happy.

Great service, I recieved the product two days after ordering. Grat quality pictures came out great.

Absolutely great photos, came out perfect on mugs.. will be buying more for presents.

as a novice of this site i found myself wondering if i would be able to make what i wanted and to my relief i found the site very easy to navigate and the different options easy to use top notch site

Well worth the money , pictures are Beautyful.

I made it for my niece, she loved it sooooo! Thx

Magic mug looks great. The picture quality when revealed is excellent. The entire mug changes bottom to top completely from black to a clear picture quality when hot water is poured into it. It makes a Great present.

Great quality,lovely picture

I'm so in love with this magic mug!!! I'm so excited to give it to my friend, and I'm on the site now to order more!

Brilliant product that's so different. Anyone I've shown has found it amazing and totally wants one too. Very happy. My best friend is going to love it,

Really lovely mug. I'm very happy with the product. Delivery was very fast. Excellent!

The mus is perfect, I'm really happy to order it as a present.

Delivered on time and the product is lovely

Very happy, prompt delivery before Christmas, ordered 2 more at the last minute due to 100% satisfaction, these also arrived before Christmas Day. Great gifts and service, thanks!

Excellent Product and quick delivery! I'm completely pleased with my product.

But you delivery system is so late.
100% satisfaction guarantee
High quality printing
Fast delivery ,
shipped by Wednesday 16th