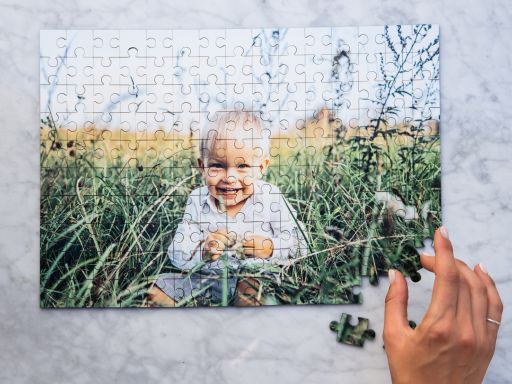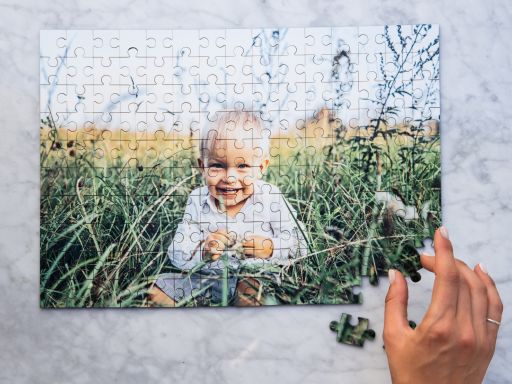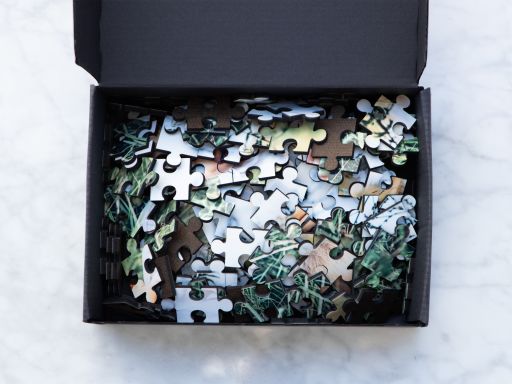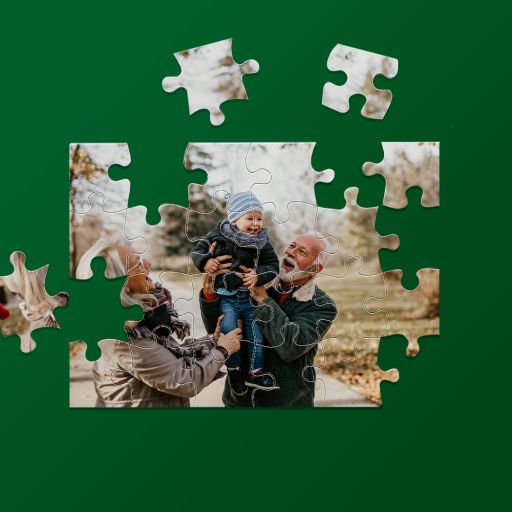 Personalised Photo Jigsaw Puzzle
100% satisfaction guarantee
Create some unique fun with your own personalised photo jigsaw puzzle. Your custom photo jigsaw will arrive disassembled so there is no cheating for the builder! This makes a personalised jigsaw a unique gift with an element of surprise and anticipation.
60 pieces: 17.4cm x 24.8cm
Make a collage on your photo jigsaw
Add text and multiple photo's
Supplied in a plain box to allow gift wrapping of your choice
Durable cardboard pieces
Delivery information and costs for this product range;
Courier - Ireland Tracked service
Estimated 2 - 3 Working days
from €10.80
Royal Mail Priority Tracked - FAST
Estimated 2 to 3 days
from €9.58
Courier - Parcel Force - Channel Islands
Estimated 3-4 working days
from €21.60
Royal Mail Non Tracked - SLOWEST
Estimated 4 to 7 days
from €5.76
Instore Collection - Banbridge
Mon-Fri 9am -3.30pm
from €3.60
Courier - Priority
Estimated next working day
from €8.64
Royal Mail Priority Tracked - FAST
Estimated 2 to 3 days
from €9.58
Royal Mail Non Tracked - SLOWEST
Estimated 4 to 7 days
from €4.79
Royal Mail Priority Tracked - FAST
Estimated 2 to 3 days
from €9.58
Courier - Parcel Force - Highlands & Islands
Estimated 3-4 working days
from €18.72
Royal Mail Non Tracked - SLOWEST
Estimated 4 to 7 days
from €5.76
Parcelforce Tracked Courier Service - FAST
Estimated 2 to 3 days
from €10.79
Royal Mail Special Delivery - FASTEST
Estimated 1 to 2 days
from €11.52
Royal Mail Priority Tracked - FAST
Estimated 2 to 3 days
from €9.58
Customer reviews
4.9/5
Based on 42 customers
Really happy,very fast delivery n good price

Great delivery time will definately use your company again

Great product but please make it clear in the description that you supply a "reference" photo for the jigsaw. This wasn't clear to me so I ordered an extra.

Perfect for Cristmas gifts

I was pleasantly surprised by how quickly my jigsaw arrived. The wooden pieces are of great quality and the image was really clear. Thanks pixaprints.

Brilliant Jigsaw. We'll have great fun.

I received exactly what i ordered quality is amazing

Second time I've ordered from pixa prints. Everything always high quality and delivery time frame is Amazing. Highly recommend this company for unique high quality products that make great presents.

Very happy with the service. I can't comment on the quality as the jigsaw has not been completed.

Was very happy with my purchase.very fast shipping aswell

Excellent quality and service. Really happy with the product!

the jigsaw was top quality,& a great service,i had it in 2 days. pity the presentation box wasnt a bit nicer

The jig saw was excellent. Very clear and nice thick pieces. The packaging could have been a little nicer then a little brown box.

I'm very happy about the product

Received the jigsaw in only a few days even though I ordered it Christmas week. The pieces fit together perfectly, no difficult cuts. The picture quality is so much better than I expected. It's photograph quality rather than just paper stuck on cardboard. Also love the poster that comes with it showing the completed jigsaw. The only downside is the box it comes in, it's not great. I bought a simple gift box to present the jigsaw for a gift, this is only a tiny issue and definitely wouldn't put me off ordering. Highly recommend

Great quality, I know it's been said before but a nice presentation box would make all the difference . A nice present to give a family.

I received this jigsaw in 2 days, quality of print & pieces is excellent, my only critism is that I would have paid extra for it to be in a presentation box with the image, as you would buy in a shop

It is exactly what I wanted

Loved the jigsaw & the quality but if it was presented better in a box I would buy again. Bought it as a gift so had to find a box to present it in. Jigsaw itself is excellent quality.

Kids love the jigsaw very professional a great present

Really happy with my order gave it as a gift and it was well received

Not only is the printing fantastic but the wood quality, depth and feeling are great. Exceeded expectations. Great value for price.

Ordered in Dublin on a Thursday night as a gift for a friend moving to Berlin Monday morning. Product arrived Monday so was delighted with quick delivery!

I ordered this jigsaw as a birthday present for my girlfriend. I placed my order about three weeks in advance as I have had poor experiences with other printers for items of this nature in terms of the time frame for delivery and after sale service. I was pleasantly surprised when my product shipped out within 24-36 hours of my placing the order and I received email updates to keep me in the loop through every step. The packaging is a little simple in terms of a gift but this is a very small complaint to have. It was well packaged and it arrived quite safely as a result. The quality of the jigsaw is impeccable and it is far better than what I had expected. Absolutely great value for money and I will definitely return as a customer in the future.

Bought 4 custom jigsaws. All top quality finish and produce. People on site were fantastic. I left it late to order and they had items ready for me in less than 48 hours and allowed me to collect as I was worried about Christmas post. As other have said the only reason packaging is a four is that there is no option for a gift box and , although box product was supplied in is top quality, it was just too small to add usable picture for jigsaw.

The only reason the packaging got 4 stats instead of 5 is there is no box

Used a custom jigsaw to propose to my (now) fiancee. This product was great! She noted the quality of it as well.

This product is 100% quality but the packaging of such a great product was terrible.It comes in a brown box which is taped together very very securely. If you are purchasing this as a gift you will need to buy a box for it.

I was delighted at the quality of the jigsaw and the delivery was so fast. The only thing that I would suggest is that with jigsaws there should be the option of including a box with the photo on top for a little extra-I didn't think about how it would be packaged and because it was a gift I needed to go and get a gift box that was the right size. Even so I was very happy with my purchase, I have already recommended it to others!

Delighted with this jigsaw. As described and was delivered in super quick time. Ordered Monday night, with me on Wednesday!
100% satisfaction guarantee
High quality printing
Fast delivery ,
shipped by Tuesday 12th