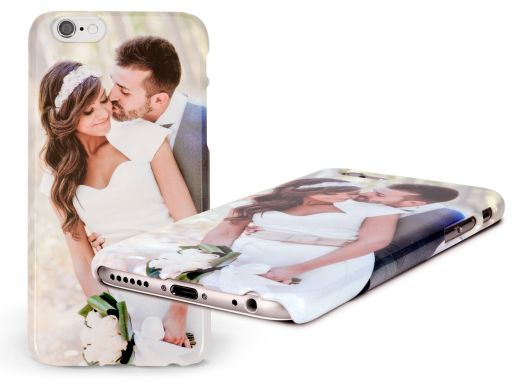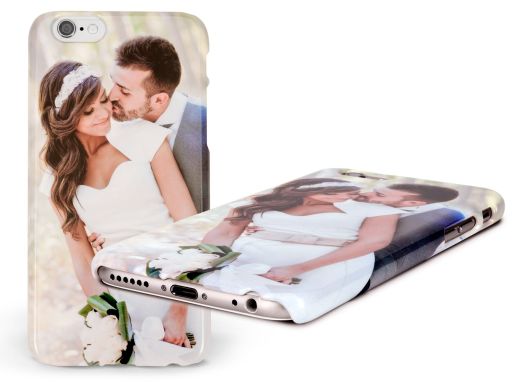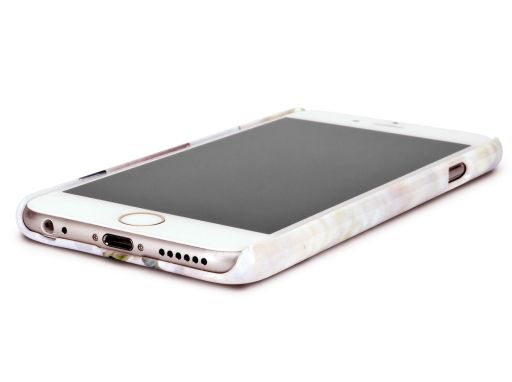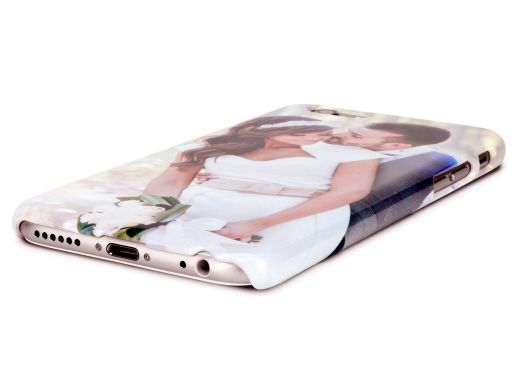 Personalised iPhone 6s Case
100% satisfaction guarantee
Features:
Fits Apple iPhone 6s, 6 and 6+ phone (check your phone model for the correct custom case)
Button access & camera cut-outs
Hard-wearing colour print with a protective coating
Collage print option
Custom text option
Excellent quality image reproduction
No loss of signal
No wireless charging interference
Slim design feature- great for the smaller pocket
Feather light
Precision made solely for the Apple iPhone 6 device
Clear polycarbonate
Full case coverage, collage layout or partially clear design option
A personalised iPhone Case is part of fashion nowadays- almost a 'must-have'. Phone cases make a perfect gift or use a custom iPhone 6 case to promote a business or brand. A popular use for a personalised phone case is to just simply add a monogram- the choices are almost unlimited.
It's said that a mobile phone is checked on average every eleven minutes so the image, photo needs to stand out. Buy one for your loved one. We've got 18 layouts to choose from so we're sure you'll find one you like.
Our printing processes ensure a high-quality finish and custom iPhone case will be with you in just a few days. Create yours today and your new phone cover will arrive in no time! Pixa Prints -photo gifts for phones.
read more
close
Delivery information and costs for this product range;
Courier - Ireland Tracked service
Estimated 2 - 3 Working days
from €8.57
Parcelforce Tracked Courier Service
Estimated 2 to 4 days
from €22.32
Priority Tracked - Royal Mail
Estimated 3 to 5 days
from €9.58
RM standard Non Tracked service
Estimated 3 to 5 days
from €3.59
Instore Collection - Banbridge
Mon-Fri 9am -3.30pm
from €3.60
Courier - Priority
Estimated next working day
from €7.92
Priority Tracked - Royal Mail
Estimated 3 to 5 days
from €9.58
Courier - Parcel Force - Highlands & Islands
Estimated 3-4 working days
from €21.60
RM standard Non Tracked service
Estimated 3 to 5 days
from €3.59
Parcelforce Tracked Courier Service
Estimated 2 to 4 days
from €10.80
Royal Mail Special Delivery
Estimated 1 to 2 days
from €10.80
Priority Tracked - Royal Mail
Estimated 3 to 5 days
from €9.58
Customer reviews
5/5
Based on 25 customers
Absolutely beautiful finished product but unfortunately I ordered wrong size so will re order

Thank you so much . So happy with the quality of the phone cover . The clarity of the picture is brilliant

Fantastic. Delighted with my product.

Absolutely loved My phone cover , as it was for a friends with a picture of her mam that has recently passed away , I was so happy with the phone cover thank you , Definitely will be ordering more of you guys ????

So easy to design. So fast to produce and ship and so reasonably priced. I ended up buying 2 phone cases 3 mugs and a canvas. I'll shop here again

Loved the cover for my phone a lot of people complimented it and they bought covers if you's too very happy will buy more :)

I am so happy with the quality and design of the case turned out really well would buy again and recommend it

High quality finish would definitely buy again ????

Product arrived very quickly, packaging was exceptional, constant update of package progress was wonderful. Excellent all round.

the cases we asked for were made and delivered for our time schedule and with great packaging and service. will definitely recommend to others.

Great product and arrived very fast in excellent condition

I have ordered cases off other sites before, this has to be by far the best quality I have received and great value.

IPhone case was perfect and of very high quality.

Brilliant quality and really fast shipping. Couldn't ask for better

Fantastic quality print delighted with it

From online order to delivery I was so impressed with the service of pixa prints. I am a graphic designer from Dublin and I needed them for a showcase. They were delivered within two days and I was so impressed with the quality as well. I will definately be using Pixa Prints again

This cover is amazing quality and such a bargain! Highly recommend!

very pleased with the product (Iphone 6 case) excellent quality

Excellent service, product and rapid dispatch. A+

Delighted with the service and product by Pixa Prints. Really efficient & excellent customer care!
100% satisfaction guarantee
High quality printing
Fast delivery ,
shipped by Monday 5th
More about Personalised iPhone 6s Case
When Apple created the iPhone 6, iPhone 6s and iPhone 6 plus it took the world by storm. Today, over 220 million have been sold and it's thought that almost half are still in use!
The iPhone 6 smartphone devices commandeered the cell phone market until late 2015. Only Samsung Galaxy Note 5, an android phone, gave it a run for its money.
The iPhone 6s high-quality design and engineering have proven reliable and robust.
A cell phone cover needs strength and yet still look good; that's why Pixa Prints has a personalised phone case to compliment that excellent quality.
We supply a tough case design to protect your valuable phone from the inevitable scratch and dent from accidents.
With a personalised case cover, you'll have protection and style.
Personalise a gift of a favourite photo for the back cover of a loved one's iPhone model: They'll treasure it.
To create a smartphone design for your custom iPhone case use our online software and design it!
Your perfect case will be shipped within 24 hours of receiving your order!
Note that Apple iPhone has many different styles of the mobile phone so it's easy to mistake your device.
iPhone 6s, 6, and the 6+ case are interchangeable. The mobile phone case will NOT fit the iPhone 6s plus which is larger than the other three.