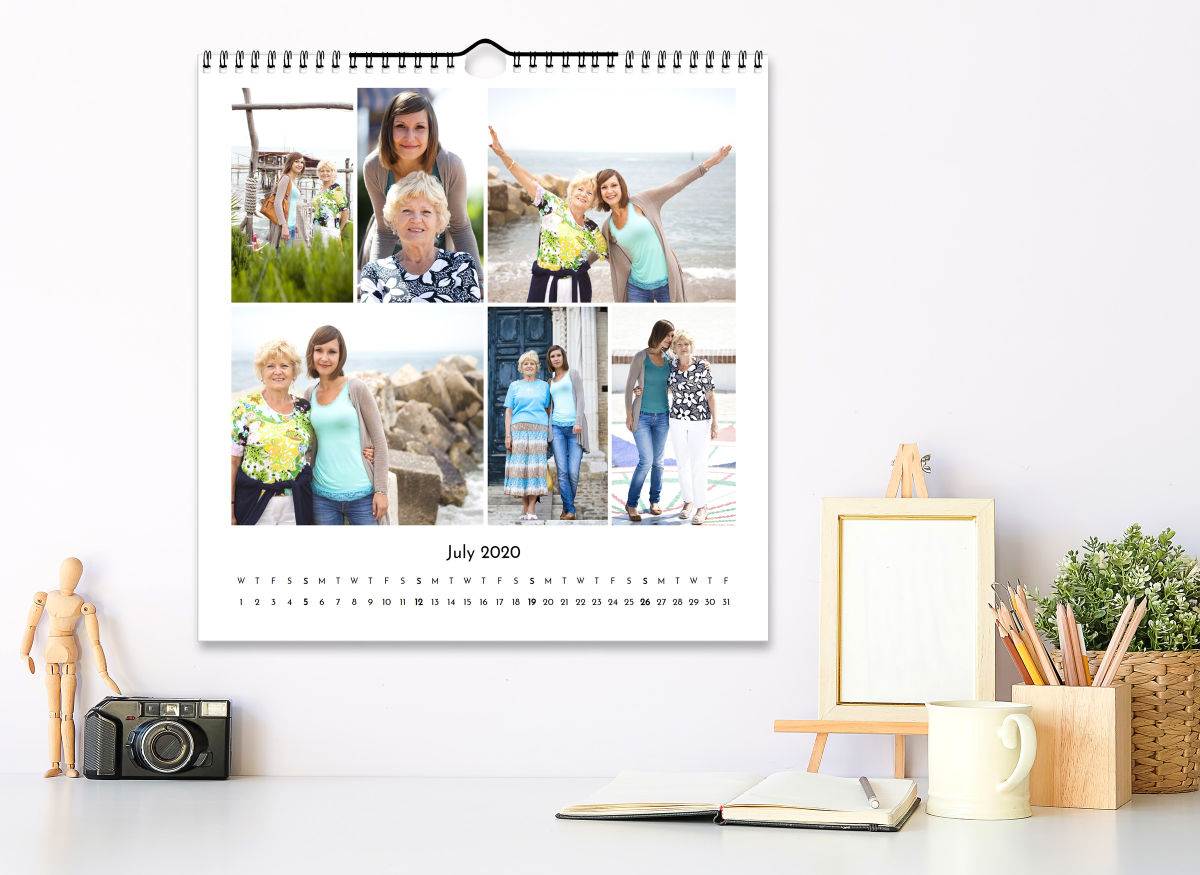 Personalised Square Wall Calendar
There is no better way to show off your photographs than a personalised square wall calendar featuring 250gsm satin paper.
250gsm photo art paper
30cm Square
Silver wire bind and hook ready to hang
Select your own starting month
Square
Product
1+
2+
5+
10+
30+
30cm x 30cm

€21.88

€13.98

€21.88

€11.64

€21.88

€10.47

€21.88

€9.30

€21.88

€8.13
Delivery is calculated and displayed at the basket. We combine orders where possible to ship items together. If items belong to the same shipping group we combine the number of items and only charge one fee. Prices shown below are the delivery fees for the category this product belongs to.
Channel Islands
| | |
| --- | --- |
| | 1 - 20 items |
| Parcel Force - UK 48hr Excludes Highlands & Islands | €21.76 |
| | | |
| --- | --- | --- |
| | 1 - 4 items | 5 - 9 items |
| Royal Mail Special Delivery | €11.23 | €14.04 |
| | | |
| --- | --- | --- |
| | 1 - 4 items | 5 - 9 items |
| Royal Mail Priority Tracked | €9.34 | €10.53 |
Ireland
| | | |
| --- | --- | --- |
| | 1 - 50 items | 51 + items |
| Courier - Ireland | €8.45 | €16.90 |
N. Ireland
| | | |
| --- | --- | --- |
| | 1 - 1 items | 2 - 2 items |
| RM 1st Class Not Tracked | €3.50 | €5.25 |
| | | |
| --- | --- | --- |
| | 1 - 50 items | 51 + items |
| Courier - Northern Ireland | €7.72 | €16.85 |
| | | |
| --- | --- | --- |
| | 1 - 4 items | 5 - 9 items |
| Royal Mail Priority Tracked | €9.34 | €10.53 |
UK (Mainland)
| | | |
| --- | --- | --- |
| | 1 - 1 items | 2 - 5 items |
| RM 1st Class Not Tracked | €3.50 | €5.25 |
| | | |
| --- | --- | --- |
| | 1 - 50 items | 51 + items |
| Parcel Force - UK 24hr | €18.25 | €36.50 |
| | | |
| --- | --- | --- |
| | 1 - 50 items | 51 + items |
| Parcel Force - UK 48hr Excludes Highlands & Islands | €10.53 | €21.06 |
| | | |
| --- | --- | --- |
| | 1 - 4 items | 5 - 9 items |
| Royal Mail Special Delivery | €11.23 | €14.04 |
| | | |
| --- | --- | --- |
| | 1 - 4 items | 5 - 9 items |
| Royal Mail Priority Tracked | €9.34 | €10.53 |
Customer reviews
5/5
Based on 2 customers
Great quality and turn around time. Very happy with what I received.

Super easy to make. Super fast made And Super fast to deliver 5*
100% satisfaction guarantee
High quality printing
Fast delivery