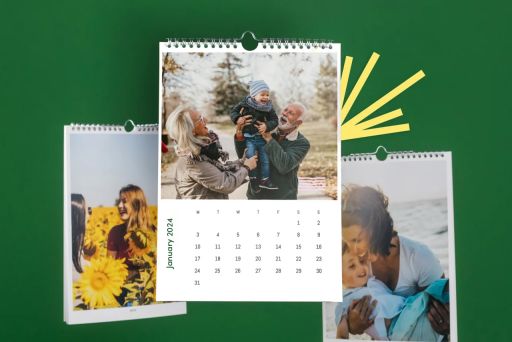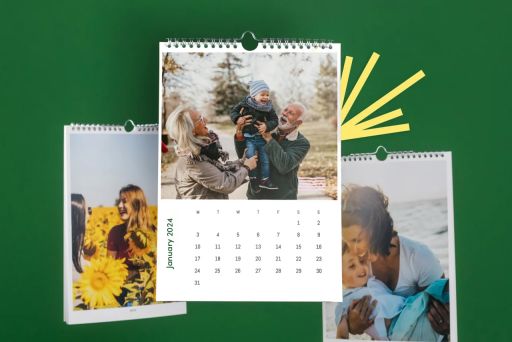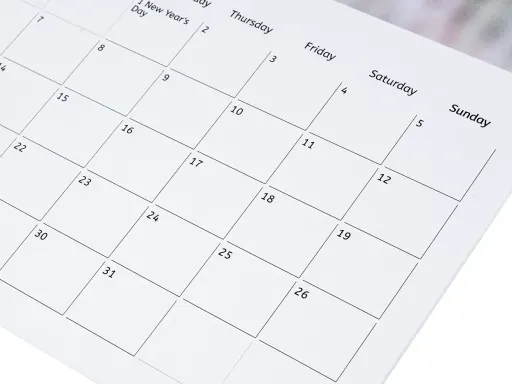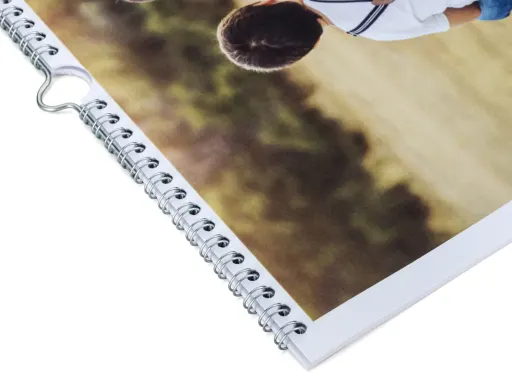 Personalised A4 Photo Calendar
100% satisfaction guarantee
An A4 photo calendar is a perfect way to relive your memories. Our design software allows you to add text and photos to any date on the calendar. Perfect for typing up your birthdays, important meetings and events. Drag a photo to any date and it will apply your photo to that date, enter your text over your photo.
Choose your month to start the calendar
High quality, printed on 250gsm silk art paper throughout
Add text and photos to any date
Pick from a range of pre made designs
210mm x 297mm A4 size
Wire bound with a hanging hook
| | | | | | | |
| --- | --- | --- | --- | --- | --- | --- |
| Qty | 1-4 | 5-9 | 10-29 | 30-49 | 50-99 | 100+ |
| A4 210mm x 297mm | €10.79 | €9.59 | €9 | €8.28 | €7.56 | €7.19 |
Delivery information and costs for this product range;
Courier - Ireland Tracked service
Estimated 2 - 3 Working days
from €8.57
Parcelforce Tracked Courier Service - FAST
Estimated 2 to 3 days
from €22.32
Royal Mail Priority Tracked - FAST
Estimated 2 to 3 days
from €9.58
Royal Mail Non Tracked - SLOWEST
Estimated 4 to 7 days
from €3.59
Instore Collection - Banbridge
Mon-Fri 9am -3.30pm
from €3.60
Courier - Priority
Estimated next working day
from €7.92
Royal Mail Priority Tracked - FAST
Estimated 2 to 3 days
from €9.58
Courier - Parcel Force - Highlands & Islands
Estimated 3-4 working days
from €21.60
Royal Mail Non Tracked - SLOWEST
Estimated 4 to 7 days
from €3.59
Parcelforce Tracked Courier Service - FAST
Estimated 2 to 3 days
from €10.80
Royal Mail Special Delivery - FASTEST
Estimated 1 to 2 days
from €10.80
Royal Mail Priority Tracked - FAST
Estimated 2 to 3 days
from €9.58
Personalised A4 Photo Calendar templates
Customer reviews
4.9/5
Based on 136 customers
Have used Pixaprints for the last number of years and have never been disappointed - excellent quality product (I ordered calendars) and they ship on time (critical!)

I was very happy with the quality of the product and the service..the colours turned out lovely, I ordered calendars and it would be great if they showed moon phases and you could customiser per country..so as to be able to see bank holidays. Otherwise, all good!

At Christmas time I ordered a couple of calendars (fron Perth, Australia) for family members in Cork. Great, easy and quick service. Thank you!

Was delivered really quickly and got several updates. Calendar turned out very well too!

I got the calendar for a couple of years now. extremely happy with the product

Got calendars as gifts for family. Lots of happy recipients.

Incredibly happy with the quality of the print and the product each year. The turn around time is very quick and the quality is top notch.

So happy I found pixaprints.ie They did a wonderful job, top quality, great value and delivered within 4 working days. The colours and paper quality are top notch. Did I say I was happy with the value?

I'm happy with the calendars. What you pay more for is the great paper and ink quality. My calendars are Art print so these are qualities are very important.

easy to use, quick delivery

I have been ordering my New year Calendars from Pixa Prints with the last few years and I have to say they are 100% in every way.

excellent quality and very fast delivery. I will be ordering again.

Great quality, great value

The quality of the calendar is excellent and extremely fast delivery. I ordered 6 for presents and everyone is very happy.

Order one. Just love the quality of the product so bought more

Great product at a great price. Have just moved from using an supplier after 15 years and could not be happier. Had one small problem that was dealt with quickly and professionally.

Quality of Calendar and Customer Servuce was excellent. Very happy with end results and receiving great comments from everyone who received one

Delighted with the final product. Will defo use again

Great product, fast delivery

Very happy with my calendars!

Very happy, brilliant quality

Excellent service and quick delivery, will visit again!

good quality and prompt delivery.

Delighted with both calendars going to get a third thanks

Excellent service, lovely product

Good quality product, easily ordered and well packaged.

Very easy to create. Lovely product. Great quality. Very fast delivery. Really happy overall

Received product very quickly and quality was great.

Great service quick, easy to create and value for Money. can highly recommend pixaprints.

First class product , Brilliant Company

Done the job, once I got the pictures I wanted to use it was easy as chips to create the design I wanted. Very happy with the way it turned out. Photos turned out lovely, the paper is really good quality - its not flimsy good an thick, the photos turned out nicely as well. Also a big thing for me was how quick it arrived after I ordered it. Literally within in 3 days I had my order. Delighted with it and I will definitely be going to Pixa Prints in the future for any of these kind of orders.

Calendar was very easy to create and customise and the delivery was extremely fast. Really impressed with the websites ease of use, the quality and fast delivery. Will definitely be ordering again!

Ordered one calendar first (and wrote a review), as a test. Results were brilliant. I decided to order 15 more. Ordering was a breeze and the calendars arrived only a few days later in good condition and just as well-made / printed as the first one I ordered. I'm a happy customer and will order more. I'm also going to make an A3 calendar as a request. The lady in question has asked for bolder and possibly bigger lettering and numbers so I have to see how that pans out. You can only do so much with the given lay-out but then again, what more can you expect for such a low price and such a fantastic print quality.

Fantastic service and ease of use. Calenders turned out brilliant. Always use pixa prints for there quality and fast delivery. Highly recommend them.

Absolutely love it! Would definitely recommend :)

Personalised exactly as i wanted. Great quality.

Excellent quality calendar delivered within 4 working days during the pre Christmas rush! Ontop of that, simple to design made a fantastic Christmas present!! Thanks! :)

I have ordered 3 calendars from Pixa Prints and I am delighted with all of them . The quality is excellent and they arrived very quickly after I ordered them . 5* service

Second time I've ordered from pixa prints. Everything always high quality and delivery time frame is Amazing. Highly recommend this company for unique high quality products that make great presents.

Got my calender done last week.it turned out great some of the photos had bad resolution but looked really good when finished.pleased with the end product highly recommended.

Delighted with quality of calendar - and very speedy delivery

Delighted with my product

Came out really well. I would say if it says the quality is poor on some uploads of pictures make them smaller as mine turned out really well once i did that.

Only two working days to be delivered. The calendar was easy to design and the quality is excellent! I would recommend Pixa Prints.

Fantastic service: Calendar arrived so quickly and looks great-

DD was very happy having her Art displayed on this wonderful calendar. This year Granny and Grandad are getting one also. It was really easy to create and edit photo's. I'll be looking at the photobooks next ;o)

I ordered on a Wednesday and received my items on a Monday, great service and good quality as well. I thought i had made a mistake on my order so rang Pixa Prints customer service, they were very helpful. Would recommend and use again.

This product is amazing, very good paper quality, perfect prints and shipped fast. I'm absolutely happy with the product

Great product, high recommend, quick delivery, definitely order again

Was really happy how fast this was delivered. Product itself is great. And reasonable priced. Cost of delivery was bit expensive

I was searching for a company that offers the service Pixa Prints offers (text, logo, length of text, own pictures, of course, I couldn't even get 2019 calendar (in January 2018) with other companies). I found Pixa Prints and they have it all and all that for a reasonable price.

Made a calender of my kids to give there grandparents for xmas ...it turn out beautiful just one photo a bit blurry...over all brilliant & delighted with the fast delivery....

very happy with calendar received......Quality of photos,and photo paper, excellent.Thank you.

High quality product. Easy to use. Fast turnaround; received within 3 days. Will use again. Super service

I ordered 4 different calenders... fabulous every year!

Loved the product will purchase for again

So pleased with my Calendars that I ordered. Website easy to use, good quality finished product and prompt delivery. Will definitely use Pixa Prints again.

Ordered 10 family based calendars for my nan, was able to put in different dates and backgrounds and all photos turned out quite brilliantly!! She was Amazed and Delighted !! Thank you Pixaprints!!

Perfect gift for Nanny and Aunties at Christmas, Calendar of all the children. Easy to do, cheap, quick delivery and excellent quality.

Excellent service quick delivery reall happy with this product :)

Great quality, fast delivery, excellent communication

Turned out lovely, Was delighted with the result.

Very easy site to use. Delivered in 2 days. Have just used again to purchase mugs.

I am really happy with the ordered calendars. Printed in high quality. The service level is excellent as well as the shipping and the price. I got them within few days. So, I am satisfied and choose you next time as well.

Great quality, great gift idea

great reproduction, great quality, excellent delivery

Loved my calender, easy to create/upload pics. Arrived withon couple of days. Very happy customer

For a small calendar i expected the printing to not be so grainy.. I really hope this will be resolved as last year my calendars were fantastic

Having used other companies before, we found that creating calendar from the scratch takes a lot of time and patience. The design interface was easy to use and we did not experience any glitches loading and editing pictures. Calendar quality is good and was delivered very quickly.

Great quality, good price and fast delivery.

Really nice and service was great too,got my orders on time

Very happy with the service provided. quick dispatch and the quality was not compromised despite the quantity ordered.

Amazing quality and value for money. Everything arrived on time and was well packaged and professionally printed. Extremely happy with the service and I will definitely be using Pixa Prints again!
100% satisfaction guarantee
High quality printing
Fast delivery ,
shipped by Tuesday 12th