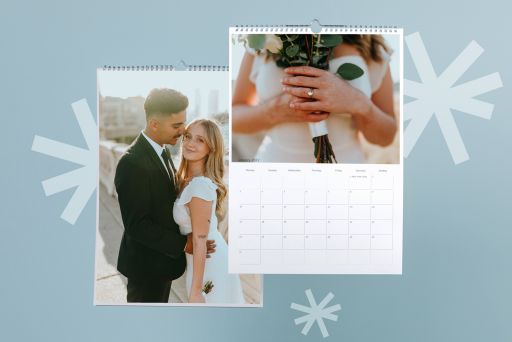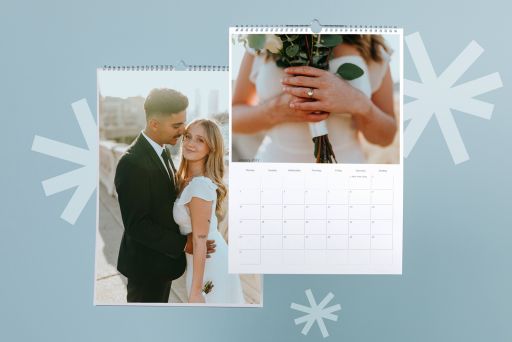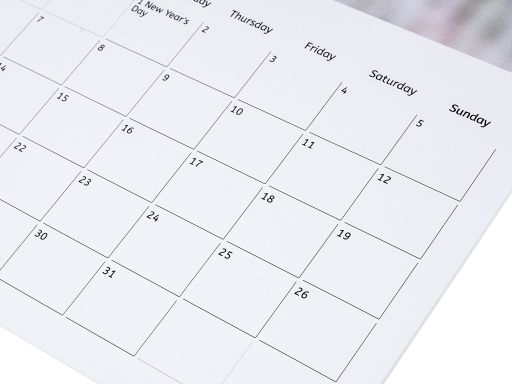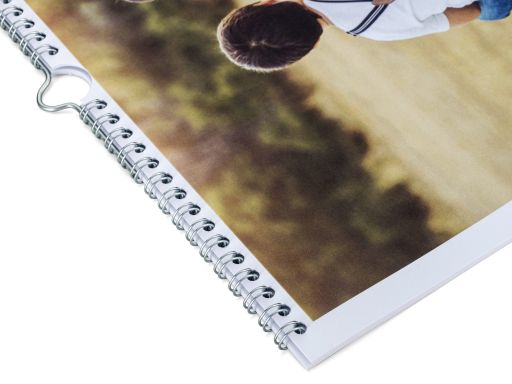 Personalised A3 Photo Calendar
100% satisfaction guarantee
Made locally in Ireland
13 pages
250gsm silk paper throughout
Wire bound with thumb hook, ready to hand
Customise each date with photos and text
A3 photo calendar printed on stunning 250gsm silk art paper. All our calendars are printed full colour and come wire bound with a thumb hook ready to hang instantly on the wall. Choose from a range of photo layouts. Each date on our personalised calendar templates can be customised with your own photo or text, never forget that important birthday or meeting again.
| | | | | | | |
| --- | --- | --- | --- | --- | --- | --- |
| Qty | 1-4 | 5-9 | 10-29 | 30-49 | 50-99 | 100+ |
| A3 297mm x 420mm | €11.94 | €11.40 | €10.80 | €10.20 | €9.60 | €9 |
Delivery information and costs for this product range;
Courier - Ireland Tracked service
Estimated 2 - 3 Working days
from €10.80
Parcelforce Tracked Courier Service - FAST
Estimated 2 to 3 days
from €20.16
Royal Mail Priority Tracked - FAST
Estimated 2 to 3 days
from €9.58
Instore Collection - Banbridge
Mon-Fri 9am -3.30pm
from €3.60
Courier - Priority
Estimated next working day
from €7.19
Courier - Parcel Force - Highlands & Islands
Estimated 3-4 working days
from €21.60
Royal Mail Non Tracked - SLOWEST
Estimated 4 to 7 days
from €5.39
Parcelforce Tracked Courier Service - FAST
Estimated 2 to 3 days
from €10.79
Royal Mail Priority Tracked - FAST
Estimated 2 to 3 days
from €9.58
Personalised A3 Photo Calendar templates
Customer reviews
4.9/5
Based on 241 customers
Easy to design. Well printed. Quick delivery. Fair price (no need to wait for a 'sale').

This is my third year using pixaprints for calendars and I am very happy with the quality.

Ordered an A3 calender for a twins first birthday - delighted with the quality and price exactly as ordered, will use again

This is the second time I've had calendars made and the quality is 100%

Great service, very happy and will use again.

Brilliant quality, easy to upload and edit custom artwork. The card stock was nice and heavy for the price. Delivery was fast with good fitting packaging.

Very good value, high quality calendars. Easy to create and arrived quickly.

Delighted with the calendar, very speedy delivery also.

Quality and delivery time was excellent. I ordered multiple copies for my sibings. and they live them. The calendar has images of our Parents and their great grandchildren. Will be back for the 2023 version.

Easy to put together, looked exactly how I imagined and quality was fantastic

excellent service and delivery

couldn't recommend this company highly enough! Great quality calendars

I ordered a few Calendars, was really easy from start to finish. Creating was very straighforward, lots of choice. They came within a few days of ordering.

Couldn't believe how quickly the calendar arrived & its quality. A discount for loyal customers would be icing on the cake.

A very easy process and a great result.

The quality is really good, the price is low and super fast delivery is a cherry on the top. Recommended!

Great size photos. Easy to assemble and customise. Look forward to a new photo each month. Will buy this product again.

Quality product and relatively easy to create on-line. Good updates as regards status of orders. Highly recommend

Site was easy to use, easy to upload my photos and create my personal calendar, submitted my order and received my order within day. Great service, thank you.

Fabulous calender. Will be going back for more. Received it quickly.

Excellent quality, easy design and very fast delivery. Could not fault this supplier.

Excellent quality, fast delivery

Such was the quality and ease of putting together my calender that I have no hesitation in coming back to Pixaprints to order more. In fact, I have recommended already friends that have ordered and they have been delighted also

Great product,even greater customer service! Delivery time super also.

These calendars are just gorgeous; printed on lovely quality paper, strong spiral-binding, vibrant colours and lovely size. The delivery time is wonderful too; less than a week. very helpful customer support too. Thanks!

Excellent service from start to finish, so happy how they print the colours of my art, very true to the originals

As a pro photographer I was very impressed with the image quality. The design process was simple and very user friendly.

The calender is of excellent quality.

Delighted with the quality of the calendar. The software used for design is excellent, easy to use and gives very accurate analysis of picture quality. Very happy with this product, thank you :)

Quality, delivery time and PRICE is 100% the best there is ??

Lovely calendar as usual. Very happy except I would like to see more embellishments available for the different months and events...

I ordered a calendar at the last minute, a few days before Christmas and it was printed very promptly. The quality was excellent and the price was very reasonable. It was easy to design and to add personal details so I'm very happy with the result and so are my family who each got a copy.

Delighted with my calendars. Designed and ordered online, really easy to do and shipped within 48hrs. Second time I've ordered and I'll happily recommend to others

5 stars as usual. Fast delivery and the calender turned out amazing. Would highly recommend this product.

these guys are true professionals.a brilliant product made every year.

Excellent choice to go with PixaPrints, excellent service all the way through with a high class finish really extremely happy with the product delivered

Quality and service is excellent.

I am very happy with it, I will order next year to.

very pleased with this order, very easy to navigate on line and will reuse this provider in future

I was extremely happy with the quality of the calendar. It was delivered in super quick time and when ringing customer service I found them helpful and polite. Will definitely use this service again!

Highly recommend. Really quick turnaround, great service and ease of design.

First time using Pixaprint and absolutely delighted with the ease of using your site, uploading photos, editing etc. Ordered three calendars and the quality was top class. Well done to everyone.

Excellent in everyway apart from cost +where being done as a fundraiser for charitable purpose. Margin very small. Excellent in every other way

I first made A4 calendars that looked fantastic. I decided to also make a few A3 calendars with the same photos and design. They look amazing. You can see a photo at my A4 review. The A3 calendars have been sent off. :)

Absolutely delighted with the calendar I ordered my friend for Christmas. Brilliant quality & it came out even better than I thought it would. Also from the time I ordered it, it only took 2 days to get to Ireland which was fantastic. A very good price too. This was my first time using pixaprints & I will be most definitely be using this website again. I highly recommend them.

Overall this is the easiest/nicest print process I've used. The design process is very to use, but also offers a lot of ways you can personalize your design if you want (but the stock designs are great as they are). I was also really impressed by the print quality (paper/texture/colour clarity) and how quickly it arrived.

Easy to design, great price, fast delivery and excellently packed

I am delighted that I discovered this site as the final product of my calendar is just what I imagined it to be. Top quality prints, design just everything really. I would recommend massively. Thanks guys

great product , delivered on time

I'm a photographer working in the advertising and design industry. I've worked with printers and print providers for more than 30 years. I ordered 5 A3 calendars as gifts last Christmas and I was blown away by the quality of service and printing. The price was very reasonable and I still get emails and texts from friends each month as the pages are revealed. Thank you for a great result and amazing service.

I'm very happy.Recommended for all

Good quality personalised Calendar which my parents love every year . Easy to make and quick dispach at a reasonable price

The photo calendar was very east to design and the available layouts were nice. I was impressed with the print quality and colours when it arrived, the service was also very quick and I had it in a few days.

this is the third year i've had A3 calendars printed and not the slightest problem, the quality is very professional, in fact you'd be hard pushed to find better quality for a shop bought calendar, heavy duty paper and wire binding and the finished items were at my front door a few day's later, the only problem I have is more people want one every year so I had to get 10 this year, next year I can see the number increasing, couldn't be happier and i'm very picky when it comes to print quality

This is my third time ordering calendars and the service is excellent. They arrived after two working days, every time! The calendars themselves are very good quality and the colours are very natural.

This was the first time I used Pixa Prints and was very happy with my order! I ordered 50 A3 calendars and the quality was superb and they arrived within the week. I was also impressed with the packaging, not one of them got damaged during delivery. I will be using this company in the future, very satisfied with my order!

Great service again this year. This is my second year using pixa prints for my annual purchase of personalised calendars. I placed my order on Tuesday night, received two emails advising me on the status of my order and it was delivered on Friday, amazing service. What I like best about Pixa prints is that their is no messing about with 'so called' special offers. Their price without any sales gimmicks was better than the UK based company I used in the past even with their so called 60% off sale. I will be using pixa prints again next year.

It was really easy to design the calendar, both pictures and text boxes, and you can also personalise events on any date. The calendars were quickly printed and delivered. Everyone is impressed by the quality.

The software was easy to use and the ordering process was straightforward. the finished calendar arrived promptly and the quality was very good.

If I'm short of ten calendars can I purchase them at the same price ?

Had a fantastic holiday in South Africa & wanted to make a calendar with some of our photos. We couldn't be happier with it, a good strong, high quality calender. Definitely recommend!!

Delighted with my calendars, and amazed with the speed and efficiency of the delivery.

I'm delighted with my calendars. They were easy to design and delivery was fast. The quality and colour is very good. Very satisfied.

This was my first time to use pix prints, I normally used a different company which was good at first and until the quality started to go down hill so I looked at pixa prints. The quality is excellent and delivery was very quick.

The production of our 2019 calendar which we give to colleagues and friends is simply outstanding! The reproduction quality of the photographs is second to none, and the paper quality shows them in the best light possible. Delivery was less than 48 hours from order, which is not bad at all either! Roll on our 2020 version!

Great quality product with fast delivery. will be using again .so easy to use.

2019 A3 wall calendar very professionally finished from submitted holiday photos. Delivered on time. Very happy with the product would definitely recommend them.

Delivered so quick efficient easy to use service great quality.
100% satisfaction guarantee
High quality printing
Fast delivery ,
shipped by Tuesday 12th