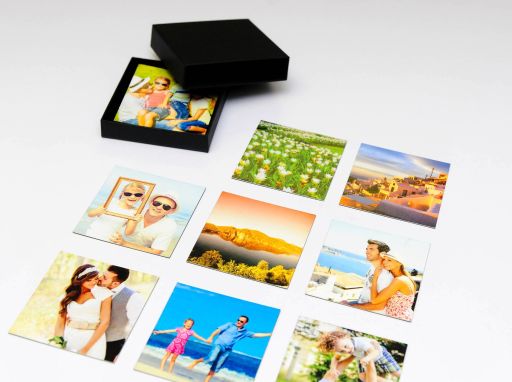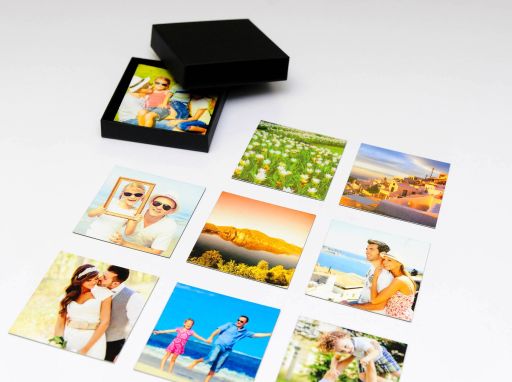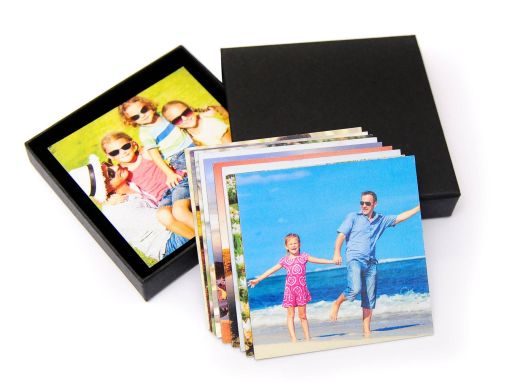 Personalised Photo Magnets
100% satisfaction guarantee
Stick your favourite photos on to your fridge, freezer, iMacs – infact anything made of metal! Choose from a range of pack options and sizes, perfectly presented in a black gift box.
Option 1: Pack 9 – 6cm x 6cm
Option 2: Pack 9 – 8cm x 8cm
Stunning photo print
Black gift box included
Delivery information and costs for this product range;
Courier - Ireland Tracked service
Estimated 2 - 3 Working days
from €8.57
Parcelforce Tracked Courier Service
Estimated 2 to 3 days
from €22.32
Priority Tracked - Royal Mail
Estimated 3 to 5 days
from €9.58
RM standard Non Tracked service
Estimated 3 to 5 days
from €3.59
Instore Collection - Banbridge
Mon-Fri 9am -3.30pm
from €3.60
Courier - Priority
Estimated next working day
from €7.92
Priority Tracked - Royal Mail
Estimated 3 to 5 days
from €9.58
Courier - Parcel Force - Highlands & Islands
Estimated 3-4 working days
from €21.60
RM standard Non Tracked service
Estimated 3 to 5 days
from €3.59
Parcelforce Tracked Courier Service
Estimated 2 to 3 days
from €10.80
Royal Mail Special Delivery
Estimated 1 to 2 days
from €10.80
Priority Tracked - Royal Mail
Estimated 3 to 5 days
from €9.58
Customer reviews
4.7/5
Based on 38 customers
perfect quality magnets, impressed with the thickness of the magnet. the packaging was simple but this was good as i was able to personalise it further myself

Really happy with this, my magnets were here within a couple of days, came packaged in a lovely box and were bigger and nicer than I thought they would be. Definitely recommend!

Very pleased with my magnets pic tures very clear thank you

I was really happy with my magnets ..I was able to give my family a photo of my beautiful new grand son

Designing the product was very easy and it came withing 3 days after placing the order. The quality of the product is good but the picture doesn't look very sharp - this might have to do with the picture resolution I used.

Lovely quality product and quick delivery. Customer service great to deal with

The image doesn't have a photo or magnet glossy finished. It's very paper, pixeled look. It, s a present for family members and so I bought 40 of them so I'm quite disappointed

Great product. Super fast delivery. ????????????????????????????????

great quality, fast service, I'm really happy with my order.

The product came very quick and were fabulous and so well packaged. Lovely gift.

Very fast service & great result. Thanks. Rectangular option would be good. Uploading took along time and afew attempts. A save option would be good.

Lovely product, really happy with how they turned out. We had been on a family holiday and I decided to get some of the group photos done on magnets as a surprise for Christmas. I hope the family like them as much as I do. Service was very prompt. Website easy to use. Arrived in good time.

these magnets are wonderful. I would highly recommend

So disappointed with my product.The quality of the magnet was good.But I placed a large order to give to family for a reunion and the whole pic was not on it.Never told me pic was 2 large and you only get what is in square.Therefore product was useless.When I rang up the man was very sharp on phone and made me feel stupid. Didn't try to find a solution.Cost over €75 and couldn't use them

My boyfriend and myself really love them! they are just like a real photograph ! amazing value

The pictures turned out great but smaller than anticipated.

Excellent service, turned out lovely,

Delighted with this item. Super fast delivery. Very nice packaging

Fast delivery. Highly recommended to my team. We used these for a work project. Delighted with the quality. And I had never heard of Pixa Prints before, but will use again. Thanks guys.

Our first order was for a present, we liked the idea and magnets so much that we ordered more for ourselves. They are beautiful on the fridge

I personally prefer the bigger size 8x8cm. I highly recommend the magnets to anyone looking for this type of product.

Great prints, exactly as expected delivered in no time!

Really happy with quality and speed of delivery

These came out exactly as I had imagined, so happy and arrived just on time for Christmas!

This is a great present for family. Who doesn't use fridge magnets! Delighted with picture quality

I ordered both the 8 x 8cm and the 6 x 6cm magnets. They were quick and easy to design online. I was emailed updates about when they were printed and picked up for delivery and they arrived within three days of ordering. They are a lovely gift, with very clear photos and a heavy card gift box.
100% satisfaction guarantee
High quality printing
Fast delivery ,
shipped by Thursday 28th