Personalise Your Galaxy S5 With The New Snap On Cover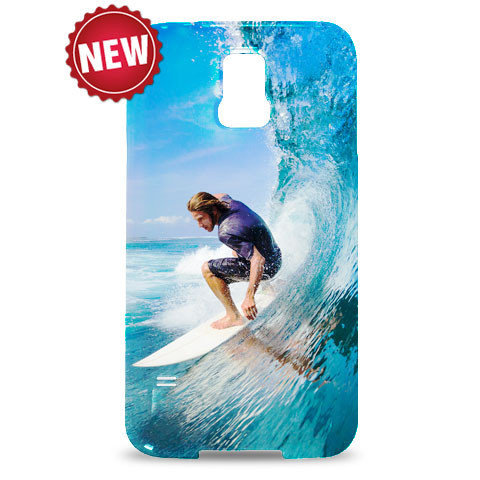 Samsung has finally unleashed the Galaxy S5 on the world, updating and improving upon its previous flagship smartphones in numerous ways.
The most significant differences are of course under the skin, where a Snapdragon 801 chipset delivers quad core power with a 2.5GHz clock speed and 2GB of RAM. On the outside, Samsung has been a little less adventurous, with a polycarbon chassis that is similar in construction to the previous generation, together with a metallic-style trim to hint at its premium positioning.
While the Galaxy S5 is going to be made available in several colours, depending on the network and retailer you choose, for many people it will not be enough to simply select one of the standard designs and live with it. Thankfully you can stand out from the crowd with a new snap-on cover for Samsung's latest handset, allowing you to select a fully personalised protective case that is sure to turn heads.
Get Personal
The best thing about opting for a personalised cover for your Galaxy S5 is that you can pick and choose from a wide variety of designs, customising them to your exacting specifications and even uploading your own images to use.
So whether you want to celebrate your friends and family with a photo montage, or adorn your phone case with pictures of your favourite travel destination, the choice is yours.
The physical design of the cover is convenient. It simply snaps on and off your Galaxy S5, making it easy to snugly seat your phone, while still giving you rapid access if you need to change the SIM or add a micro SD memory card.
Robust Beauty
Getting a snap-on cover for your Galaxy S5 is not just about enhancing its aesthetic impact; you should also buy one if you are worried about the damage that your device might sustain over time. Bumps, scrapes, drops and other disasters can all put a dent in its exterior and display, while causing valuation issues further down the line if you decide to sell your phone when it is time for an upgrade.
Samsung may have made this latest iteration of the Galaxy S5 waterproof and dustproof, but if it takes a tumble then there is very little you can do. However, with a personalised cover the handset can not only look good but should mitigate some of the damage that might otherwise occur through everyday use. This ensures that you can fully enjoy this powerful handset without feeling the need to handle it with kid gloves every time you use it.
So if you have already jumped on the Galaxy S5 bandwagon or are planning to do so, why not match it with a snap-on case that can be personalised just for you?